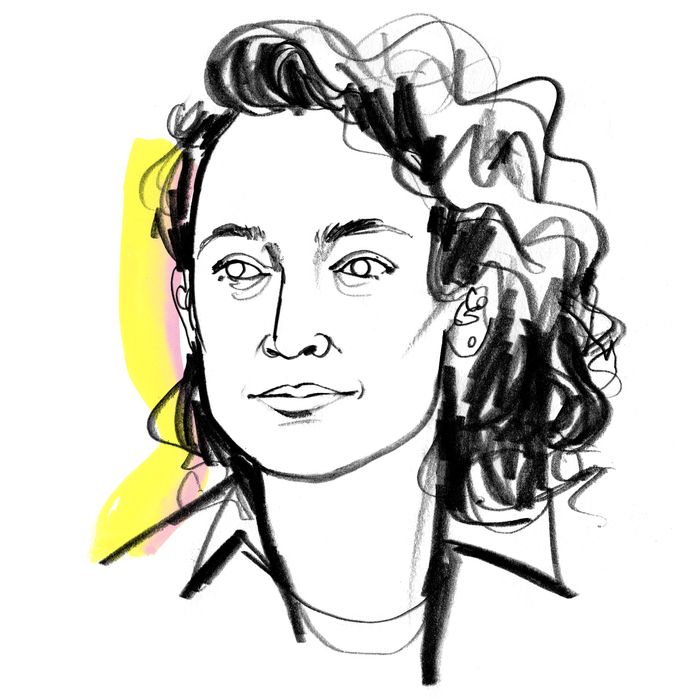 Illustration: Lauren Tamaki
Last month, Paola Ramos, a Vice and Vice News correspondent and contributor to Telemundo and MSNBC, released her first book, Finding Latinx: In Search of the Voices Redefining Latino Identity. The travelogue explores different communities across the country that are working to change ideas about the term Latinx and all it encompasses, from the Las Poderosas fighting for reproductive rights in Texas to the indigenous Oaxacans in upstate New York. Ramos, the former deputy national director of Hispanic press for Hillary for America, received her master's degree in public policy from the Harvard Kennedy School and her B.A. from Barnard College. She lives in Brooklyn with her fiancée, De'Ara Balenger, and their mini-goldendoodle, Dida. Here is how she gets it done. 
On her morning routine:
It's odd for me to not be on the road. Normally, I spend 60 to 70 percent of my time traveling, covering different stories. Every morning, whether I'm here in Brooklyn or in Arizona or Texas or wherever, I wake up, get my coffee, and take 20 minutes to see what the day is going to look like. I always get a latte first thing in the morning. Lately, I discovered oat milk, and I love it. Every morning, no matter where I am, I try to run at least three miles, even if I'm working in Navajo Nation, at the border, anywhere. It helps keep me sane.
On the best and worst parts of her job:
It's an immense privilege for people to open up their spaces to me. I talk to a lot of Latinos and Latinx folks and folks in the LGBTQ community and folks that are indigenous. That's my favorite part: the privilege of telling these stories and meeting so many people. I think the hardest part is that I forget my own life. It's easy to let go when you're so intrigued by other people's stories. And then sometimes I realize, Oh my God, I haven't been home in three weeks.
On work-life balance:
I think the positive thing is that I can truly say I love what I do. But I do try to be intentional when I am home, when I am in Brooklyn. I always try to make space to see my friends. When I'm gone and on the road, I call my parents. I talk to my parents and my family and my girlfriend wherever I am, every single day. And that gives me some sense of stability.
On dealing with pressure:
Every time I have to go on TV, I put a lot of pressure on myself. I want to make sure that everything I'm saying is perfect. And I always feel like there's this imposter syndrome that sets in, particularly when I have to go on TV. So I've had to take a step back and understand that I'm doing this for a reason and that I have worked hard for this moment. I still have to do that every time before I go on. I always take a couple of seconds. 
On her favorite spots in Brooklyn:
I live in South Williamsburg. I always get coffee from Butler or Jane. I love brunch (now takeout) from Five Leaves. When I miss Spanish food, I go to El Born. They have the best gazpacho; it reminds me of Madrid. For dinner, I love Have & Meyer these days. Also chocolate croissants from Bakeri.
On learning from her parents:
I grew up in a family of journalists [her father is Jorge Ramos, "the Walter Cronkite of Latin America"]. Both my parents are immigrants. They both left their country to find better opportunities. So politics and storytelling and journalism was just how I grew up. From my dad, I learned the whole idea of questioning power. I grew up watching my dad on TV, but I also grew up watching my dad get kicked out of interviews with presidents and watched him constantly pushing and pushing and pushing to just question figures of authority. From my mom, I learned that no matter the situation, you always have to try and find dignity in people. And I think that's the lesson that I've carried most in every profession. No matter who you are, no matter your skin color, no matter anything — everyone deserves dignity. That is a core element. It's the way that I approach every conversation.
On the process of writing her book:
It honestly started four years ago, being in the Clinton campaign and losing the election. I believe the headline out of that race was that we'd be the ones that ensured Donald Trump wouldn't make it to the White House. Then less than 50 percent of eligible Latino voters actually showed up to vote in 2016. That started me thinking that we had missed something in 2016 and that we had, in fact, missed something over 20 years, which is the way Latinos had evolved. And then I started to think about the difference between someone like my father, my mom, and me, who came to this country in the '80s when there were only 15 million Latinos. Now there's 60 million of us. I hadn't really understood the evolution of who we were, what it meant to be a first-generation American. That was the beginning of this journey of understanding the most basic question of who we were. And then you couple that with the birth of the term Latinx. When I heard that word, I was like, Yes, this feels good. And I was curious about exploring the sentiment behind it.
On the advice she would give her younger self:
To come out sooner — and I don't mean it like if you're a queer person. I mean to start embracing yourself at an earlier age. I waited for the right moment. I don't think people should have to wait. I think you can be a young teenager and there's nothing to be scared of if you feel like you're different. So I'd say to just come out of whatever shadow you're in earlier and to not wait for other people.