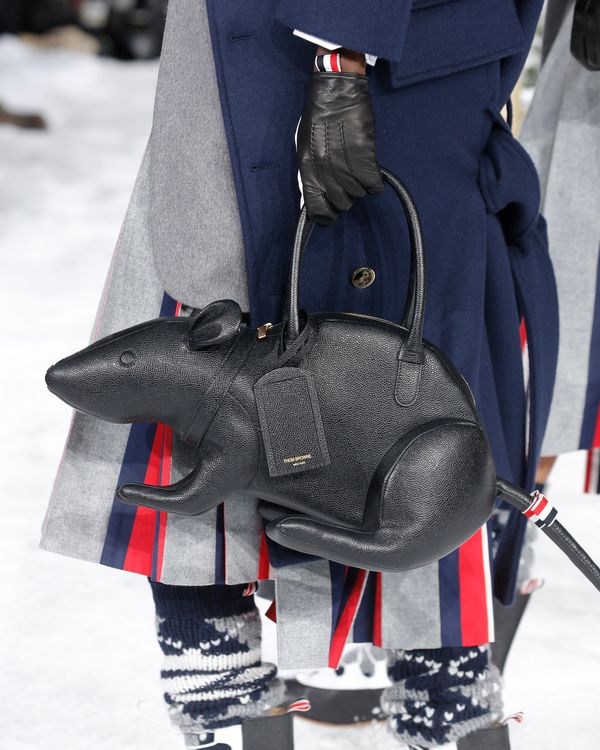 Photo: Gamma-Rapho via Getty Images
2020 has been the year of the rat — literally, in terms of the zodiac calendar but also figuratively, as rats seem to be thriving during the pandemic. Remember the army of rats that overran the empty New York streets at the beginning of the lockdown this spring, or the man that fell into a pit of rats in a sinkhole in the Bronx? Now there's another rat infestation to report, but this time, we're here for it.
Thom Browne recently released its "Animal Icons" collection, which includes handbags in the shape of animals. The show was Browne's first-ever co-ed runway. Faithful to the Noah's Ark theme, the models walked in pairs, each carrying an animal bag. There was a monkey, a fuzzy sheep, and Browne's own dog Hector, all in black pebbled Italian leather. But the real New York City star was the bag in the shape of a rat.
Browne's luxurious inanimate rodent won't give you a disease, steal your food, or invade your home. Instead, it'll carry all of your belongings in a carefully-made package. Each bag takes at least 3 full days of work to complete, which explains the $3,390 price tag. "The patterns for all the bags were created by one very experienced and talented senior pattern maker in Italy," a presentative of the brand told the Cut. "He was the only one who could construct accurate patterns so that the bags will come out as functioning bags, not only looking like animals."
Says Browne, "I love the animal theme because they always make people smile." This is one rat you wouldn't mind finding in your closet.