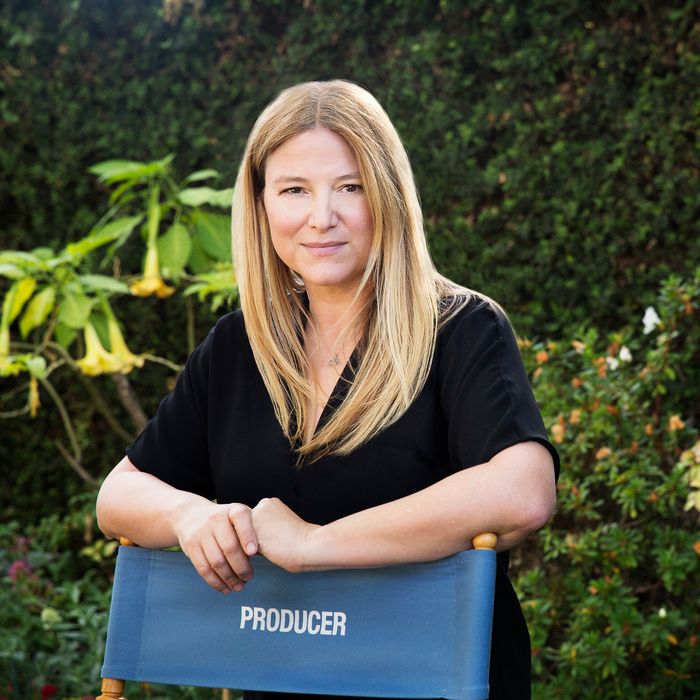 Photo: Hilary Bronwyn Gayle/HBO
If you recently caught an episode of HBO's The Undoing, starring Nicole Kidman and Hugh Grant, and thought to yourself it seemed awfully similar to Big Little Lies, you're not alone. Sure, they're both buzzy murder mysteries that revolve around wealthy familes, but they also share some key DNA: both were created by screenwriter David E. Kelley and Bruna Papandrea, the powerhouse producer who's spent decades bringing women's stories to screens big and small.
Papandrea has a knack for sniffing out books, like The Undoing's source material, that can be adapted into blockbuster shows and movies. That's also where hits like Big Little Lies, Gone Girl, and Wild came from, which Papandrea made with Reese Witherspoon after co-founding their own production company, Pacific Standard, in 2012. Since then, Papandrea's started her own company, Made Up Stories, where she's continued to adapt material by women authors and worked to create space for female filmmakers. She has a ton of new shows on her plate and is currently filming a television adaptation of Liane Moriarty's Nine Perfect Strangers, yet again reuniting her with Nicole Kidman.
Papandrea talked to the Cut about working on The Undoing, getting women's stories in front of the camera, and trying to not stress about acclaim.
First off, Hugh Grant is so scary in this! How was the experience of working on The Undoing?
It was a fabulous experience. I never worked in New York, strangely, I've worked everywhere else. I've been a massive Susanne Bier fan [the director of the series]. It was a tremendous experience, you know, Nicole and I worked together before and David E. Kelley. It's the show I want to watch — I love a thriller and I love a character drama. I was pretty excited.
You've had such a great career producing. How did you get into the industry?
I was always interested in the arts when I was younger, did a bit of acting and writing and was involved in theater. I went to work as an assistant, at a commercial company. I was pretty young and ended up producing a few small commercials. While I was doing that, I ended up moving to New York and volunteering on a feature film. It was really there that I volunteered my services and ended up getting a co-producer credit on the film. I came back to Australia and it was there where I made Better Than Sex — that was really the film that started my career.
So much of the stuff that you've done with your own production company and with Pacific Standard are projects that are so important and geared toward women.
When I first started the company, my mandate was to support women in front of the camera, and to put them behind [the camera]. Someone like Jennifer Kent [director of The Babadook] can come to me and say, I want to make a movie. I want to be able to do that because any woman director shouldn't be limited, men don't limit themselves. So, there's no rules per se.
You've done so many book adaptations like Big Little Lies, Gone Girl, the upcoming Nine Perfect Strangers. How do you make sure you stay faithful to the original text?
I have done a lot of book adaptations and I think it depends on the book. Some novelists, you know, we always have the conversation, are you okay if we add these changes and some people care more than others and then there'll be little things that don't matter. And then when you're dealing with a memoir, like Wild or Penguin Bloom, then you're dealing with real people's lives. Every situation is very different and you try to be good partners to the subject or the novelist. I don't believe it should be completely faithful — because of the needs of the film or TV show, you have to be willing to look at everything creatively and expand on it. I've definitely had experiences where we change too much and the novelist was not happy. So we had to backtrack after a lot of conversation, but we got there in the end.
Your fingerprints have been all over huge television series and films that have received both critical and audience acclaim. Do you ever feel like you have to one up yourself when you are choosing future projects?
I try to not put that on myself too much. I don't assume anything. You make something as unique and distinctive as you want, as you can. And then, things either arrive sometimes or they don't, and it's not even because they're not good enough. Sometimes it's a zeitgeist thing— what's hitting home with people in that moment. I think you can know if you're having a great experience and if you like something, but there's a lot of ingredients that have to come together. They'll find their audience and I'm pretty okay with that because people desperately need that creative outlet and escape.