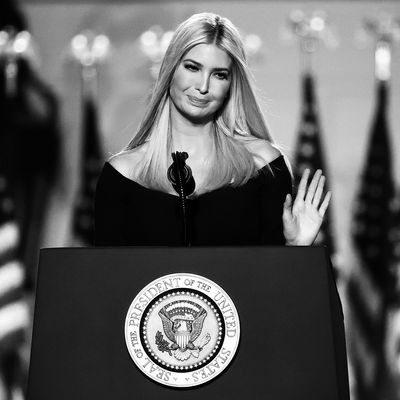 Social pariah.
Photo: Chip Somodevilla/Getty Images
In April of last year, right around the time President Trump was busy assailing a newly sworn-in Muslim congresswoman, The Atlantic published an extensive profile of one of his closest advisers: his daughter Ivanka Trump. In it, reporter Elaina Plott made a sweeping assessment based on interviews with the First Daughter's friends.
"Ivanka believes that this won't harm her in the long term," Plott wrote. "She is intent on returning to New York when her time in the White House is over. Invitations to the Met Gala, dinners with girlfriends at Italian restaurants, charity events — she is said to be certain that they're 'all waiting' for her."
Thankfully, that almost certainly won't happen. Now that her father's administration seems to have finally admitted his humiliating defeat, Ivanka and her husband, Jared, will have to figure out their next steps — and Manhattan won't be very welcoming should they come slinking back. "They'll be welcomed back by people who know the Trumps are as close as they'll get to power," one of Javanka's former friends told Vanity Fair. "But everyone with self-respect, a career, morals, respect for democracy, or who doesn't want their friends to shame them both in private and public will steer clear."
A member of various museum boards told the New York Times that the couple will likely struggle to participate in one of their most beloved elite pastimes: art collecting. "I know many galleries that would go out of business before they would take Trump money," this person said. The same goes for the fashion world. "No one is going to lend Ivanka clothing," one designer said. "She'll have to buy it covertly at retail." One brand-management mogul hypothesized that the couple would be even bigger social pariahs in the city than Donald Trump himself. "He's despicable but larger than life," Donny Deutsch told the Times. "Those two are the hapless minions who went along."
Meanwhile, some have fantasized about Javanka returning, if only to observe them being swiftly and vociferously shut out of elite circles. "I have had visions of Ivanka with her thousand-dollar hair and makeup trying to show up at the opera like that and getting ejected," Jill Kargman, a prominent Upper East Side figure, told the Times. "The poetic justice is that coming to New York would put them in a kind of prison already."
But maybe there's a chance they won't even try — settling down in New Jersey appears to be Javanka's current plan. (As the Times reports, they would be behind guarded gates, of course).
And Ivanka thought being her father's daughter was the "hardest job in the world"? Let's see what she thinks of being the daughter of the former president Trump.