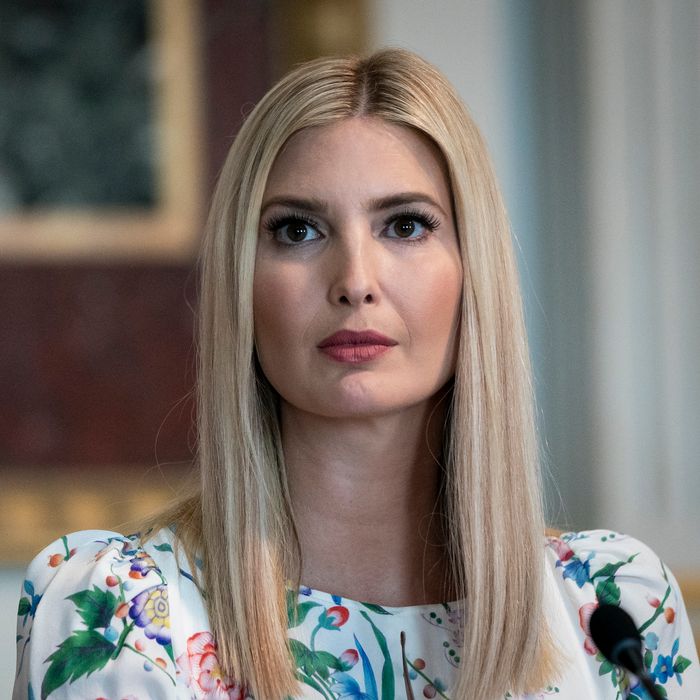 Ivanka Trump.
Photo: Getty Images
Sometimes, you look at someone and think, How did they get to this point? How did a sweet young kid become this cold, hardened soul I see in front of me now? Other times, you look at someone, and it all makes sense — they've always been exactly who they are, for better or for worse. Ivanka Trump, it would seem, falls into the latter category.
This week Vanity Fair published an essay by freelance writer Lysandra Ohrstrom, who says she was one of Ivanka's best friends growing up. The pair met in middle school at Chapin, Manhattan's elite all-girls' school on the Upper East Side. As Ohrstrom describes it, the two were inseparable. They went on expensive international adventures, flouted school rules together, and Ohrstrom was one of the two maids of honor at Ivanka's wedding to Jared Kushner in 2009.
Eventually, the two drifted apart. Ohrstrom says she decided to write about her friendship with Ivanka "if only to ensure that she really will never recover from the decision to tie her fate to her father's." And the portrait she paints of the First Daughter in her teens and 20s is pretty much what you would expect of a rich, entitled girl who would grow up to be a rich, entitled woman who supports her father's harmful, draconian political policies that overwhelmingly harm low-income and minority communities.
Take the anecdote about Ivanka asking Ohrstrom for a book recommendation. When Ohrstrom suggested Empire Falls, Richard Russo's 2001 Pulitzer Prize–winning novel about the life of a man who works at a diner in a small, blue-collar town in Maine, Ivanka reportedly replied: "Ly, why would you tell me to read a book about fucking poor people?" and "What part of you thinks I would be interested in this?"
Or there's the way Ivanka apparently used the point out what she saw as inconsistencies in movies between a character's profession and their lifestyle. "Since when can a teacher afford a BMW?" she once asked, according to Ohrstrom.
One particular horrendous exchange took place when Ohrstrom returned from working as a foreign correspondent in Lebanon. Her pro-Palestinian stance, she said, chafed Ivanka, who was by then with Jared, whose family is Orthodox Jewish. Ohrstrom recalls:
Since 2007, I've worn a necklace with my name written in Arabic, and Ivanka grew increasingly irritated by it. Sometimes, she would randomly say, "I hate that thing." Then one night in the middle of dinner, she glanced at the necklace and said, "How does your Jewish boyfriend feel when you are having sex and that necklace hits him in the face? How can you wear that thing? It just screams, 'terrorist.'" 
These vignettes show a woman who is classist, callous, and racist. What else would you expect, though? As much as Ivanka has tried to portray herself as the moderate voice of reason in her father's administration, it's always been clear that ultimately, she, like her old man, is just looking out for No. 1.
As for what comes next for her old friend once her dad is out of office, Ohrstrom has an idea: "I expect Ivanka will find a soft landing in Palm Beach instead, where casual white supremacy is de rigueur and most misdeeds are forgiven if you have enough money."