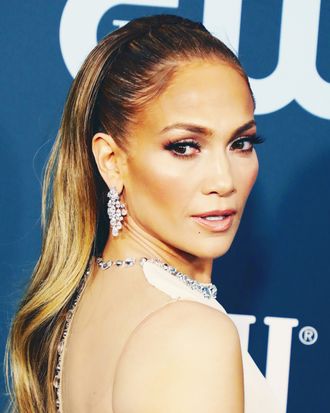 Jennifer Lopez.
Photo: Taylor Hill/Getty Images
JLo Beauty, J.Lo's beauty line, has an official launch date.
Yesterday, a shiny video appeared on the singer's Instagram prior to her receiving the People's Icon trophy at the People's Choice Awards. The video's gleam wasn't emanating from Lopez herself, as it usually does, but from the words "JLo Beauty," written in juicy bubble letters emerging from a pool of reflective rose-gold lava.
According to the caption, whatever glow-inducing beauty products are swimming around under there will be surfacing on New Year's Day 2021.
Lopez did narrow down the product possibilities a smidge. In a second post, we see her modeling how the J.Lo glow looks on human beings rather than bubble letters. "This isn't just a passion project, it's a 30-year dream," the caption reads. "I can't wait to share my skincare secrets with you!!" From this, we can glean two things: (1) J.Lo probably gets the vampire question as often as her fellow unaging beauty-brand founder Pharrell does, and (2) her new line will probably launch with skin-care products or perhaps "aesthetic skin care" products that merge skin care with makeup finishes.
Another hint comes from the JLo Beauty Instagram account, which bears the tagline "Beauty Has No Expiration Date." The feed is home to a clip of a mysterious, silhouetted rose-gold product that is said to "hustle." J.Lo is quite the skin-care fiend, so that bottle could be anything from a bronzing serum to an eye cream infused with diamonds. Be sure to thoroughly study her lengthy alleged beauty rider before placing your bets. The good news is you won't have to wait long to see how you fared. Although the line launches on January 1, you can sign up on the brand's website for early access on December 8.