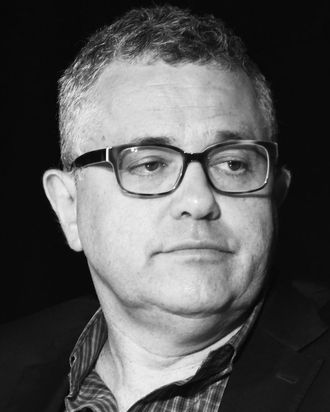 Jeffrey Toobin.
Photo: Vivien Killilea/Getty Images for PSIFF
A month after exposing himself to his colleagues over Zoom, legal analyst and writer Jeffrey Toobin has been fired from The New Yorker.
According to the Daily Beast, Condé Nast's chief people officer, Stan Duncan, sent a memo to staff on Wednesday, saying, "I am writing to share with you that our investigation regarding Jeffrey Toobin is complete, and as a result, he is no longer affiliated with our company."
The now-infamous incident took place in mid-October, during an "election simulation" in which Toobin was playing the role of the courts. As two sources told Motherboard, which first reported on the story a week later, there was a pause in the simulation during which different groups broke out into separate strategy sessions. During this pause, the sources said, Toobin appeared to be on a second video call, and when people returned from their breakout sessions, Toobin lowered the camera to show himself touching his penis. Toobin then left the call before rejoining the Zoom moments later.
"I made an embarrassingly stupid mistake, believing I was off-camera. I apologize to my wife, family, friends, and co-workers," Toobin told Motherboard. "I believed I was not visible on Zoom. I thought no one on the Zoom call could see me. I thought I had muted the Zoom video."
The New Yorker suspended the longtime staff writer shortly after, and launched an investigation into the incident.
Toobin himself confirmed the news on Wednesday, tweeting: "I was fired today by @NewYorker after 27 years as a Staff Writer. I will always love the magazine, will miss my colleagues, and will look forward to reading their work."