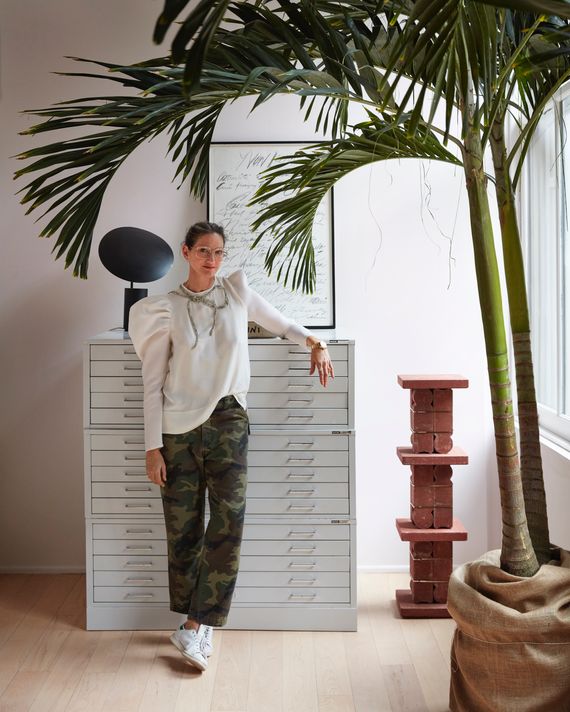 Lyons hanging out pre-pandemic with one of the 12-foot palms in her Soho office.
Photo: Stephen Kent Johnson/Stephen Johnson
Jenna Lyons has been hanging out in a gray space, both metaphorically — it has been more than two years since she left J.Crew — and literally. Peering through the screen of our Zoom call, I can see that the walls of her apartment are the color of a smooth pebble, the kind that's perfect for skipping across water. She's no longer wearing her signature thick Moscot glasses — a symbol of the dizzying era when the Times dubbed her "the woman who dresses America." Instead, she's got on rimmed aviators, a black-and-white Adidas tracksuit, and cherry-red nails. "I have been working like a dogggg," she says cheerfully, emphasizing every syllable.
Lyons has spent the past three years quietly focusing on a new company called Lyons L.A.D. — literally "life after death." And now she has risen with a slate of new projects. She started a beauty company, a false-lash brand called LoveSeen. She's designing a new hotel in the Bahamas. She has a super-secret project with Rockefeller Center she can't talk about. She's working out of a new, non-corporate Soho office with 12-foot-tall palm trees. And she is a newly minted reality star, thanks to a new HBO Max show called Stylish with Jenna Lyons.
Lyons left her powerful role at J.Crew after agreeing with CEO Mickey Drexler that it was "time for a change" — they both say the decision was mutual. Like many others, I assumed that following her departure, she had a J.Crew Factory-sized warehouse of lucrative offers to pick through. But surprisingly, she says the calls didn't come. "Zero," she says, making the universal symbol for "big fat zero" over her right eye. "Or close to it."
"I don't know if I expected it but deep down, I thought something would happen?" she says, softly. "And everyone said, 'Don't worry, you'll get tons of calls.' And I really didn't." Instead, Lyons sat at home (granted, it was her incredibly tasteful home, the one with the pink velvet couch) and reflected. "I was the driving force behind myself leaving, but I knew I had lost something," she muses. "I knew I wasn't serving my team or my company the way I should be." Part of her frustration came from the limits of fashion. "I got into this because I wanted to make clothes for everyone. I ended up working at J.Crew for that very reason. But there was always someone who felt left out. In clothes, you grade on a pattern, whether you're making a size 2 or a size 14. It's a Rubik's cube and what happens is instead of making perfect things for all sizes, you have to split the difference. You end up with people not feeling great about a product and wondering why it doesn't fit them, why there isn't something for them. I didn't love that."
Despite leaving on her own terms, she was worried about her financial security and future, plus "ego," she candidly says. "All the invitations stopped coming." With hindsight, Lyons says, "It was a blessing I didn't get calls. If someone had said, 'Would you come and be the creative director of [this other fashion brand],' I don't know if I would have said no or if that would have been the right move."
After she'd taken a break of almost a year, the "abject terror of not having a job or future of any kind," started to kick in, and Lyons began taking some exploratory lunches. Many became the seedlings for the current diversified crop of Lyons L.A.D's projects. A talk about furniture became the hotel project. A conversation with an agent, after several iterations, turned into the TV show — the idea incepted after a lunch with Anna Wintour, who told Lyons, "I think you should do TV, not fashion. You're good on TV." They had worked together for The Fashion Fund, a documentary about the CFDA awards
Lyons calls filming Stylish, which debuts December 3rd, the "most bizarre process ever." First, because she's never made a TV show before. Second, because Stylish is really three reality shows in one, a mix of documentary, makeover, and competition, like Project Runway meets Home Makeover meets The Rachel Zoe Project, with contestants competing to win the grand prize of working at Lyons L.A.D.
The show posits Lyons as a rom-com-like heroine, moving on after a big break-up, her 26-year relationship with J.Crew. There are extensive shots of her closets, lined up like chocolates, and she wears floppy hair bows and many shirts generously and sexily unbuttoned down her sternum. Her voiceover is self-deprecating, starting from the first episode. "As a twelve-year beanpole — Oh god, I can't even look at that photo — I struggled. But I found my own style, one that embraces who I am, quirks and all."
Reality shows don't know what to do with nice people, which makes Lyons, an unfailingly nice person, a curious TV subject. When I lose my train of thought during our interview, she offers to show me a picture to jog my memory. She apologizes when her dog, Popeye, starts barking, and when she needs to charge her computer. Lyons is even kind to candidates who show up for their job interview without a copy of their resume (puzzlingly, this happens multiple times throughout the series). She told the show creators early on that she wasn't interested in stereotypically mean fashion-reality-show behavior.
"I didn't want to seek drama. I also know that the undercurrent for giving 'really direct feedback' is, 'Can you be snarky?' and I didn't want to do that. I didn't want people to feel uncomfortable to come on the show because I'm going to be a bitch. I also didn't want to give someone $5 to ask them to do an unrealistic project." (Her chief of staff, Kyle DeFord, formerly Mickey Drexler's, is the voice of Gentle Snark, like when he says while en-route to meet a UBS investment banker, "I think you're the only person in midtown wearing coral pants.") Lyons gives lots of hugs; when a contestant is about to have a panic attack, she calls a time-out.
The show also gives viewers insight into Lyons's gift for interior design. Pinterest tells me searches for "Jenna Lyons apartment" are up 40 percent this year. Her oft-photographed homes have taught a generation of followers that couches don't have to be white, black, gray, or brown — including Samantha Cameron, wife of former UK Prime Minister David Cameron, who copied Lyons's living room for 10 Downing Street after it was photographed for Domino in 2014 (A 2011 picture shows Michelle Obama sitting with Cameron on a couch in a familiar-looking shade of marigold).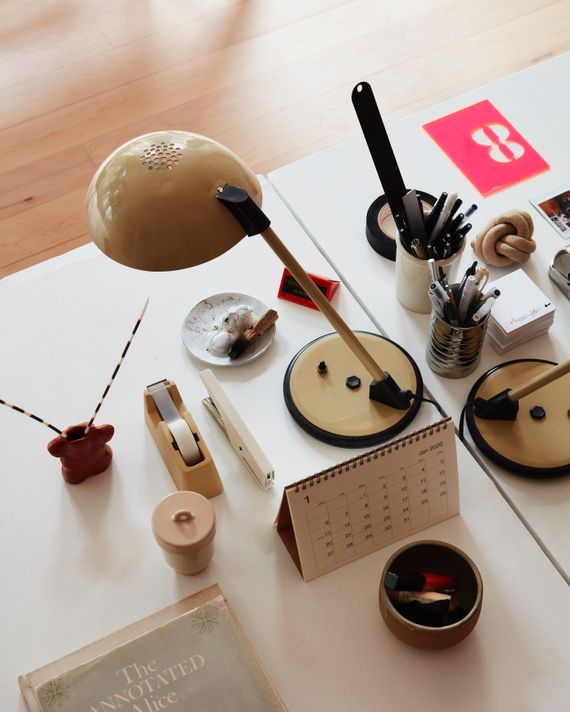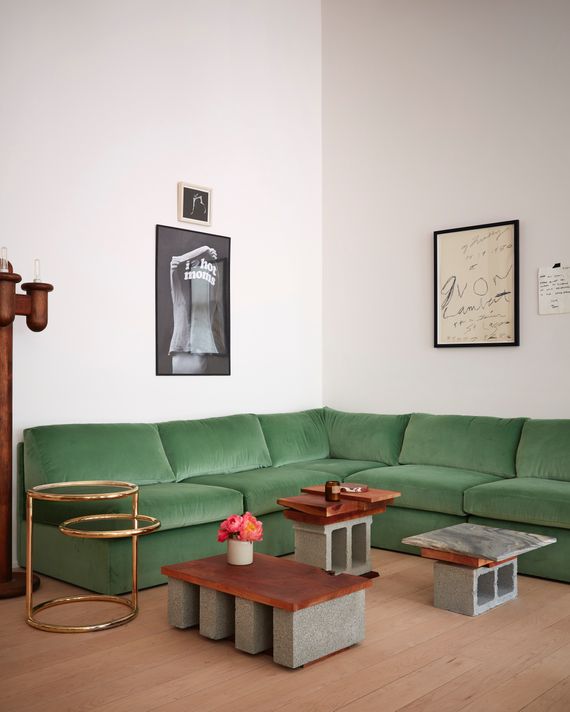 Stylish features several before/afters of spaces that look nothing like millennial decorate-by-number jobs. In one episode shot before the pandemic, which features a visit from the Cut's Wendy Goodman and Stella Bugbee, Lyons's team gives her Soho home office a makeover centered around a rectangular sofa that looks like Gumby ironed out. Her renovation of a friends' brownstone, where she replaces a grand piano with a ping pong table and commissions fine arts painter Dean Barger to paint a misty forest mural (similar to the work he did at Le Coucou), is a thing of immediate, Pinnable beauty. We learn from the show that Lyons has a "peony document," a PDF created by a former assistant, which outlines "good" peonies (New Zealand coral peonies, which fade over time to become blush pink) and "bad" peonies (all the other ones, which are too purple, too pink, too coral, or out-of-season flowers).
Lyons was involved in the interiors process for J.Crew Collection and has renovated every single apartment she's ever lived in. When it comes to visuals, she has a brain like Google Images. She will search for unlacquered brass faucets from England till 3 a.m. She was inspired to buy a pink velvet couch when she saw Mick Jagger's George Sherlock sofa in the New York Times 20 years ago. "I was obsessed with it. But it was British and a bajillion dollars and it was not in the cards. I held onto the picture. When I bought the house in Brooklyn, I bought a Sherlock couch, but I did it in yellow because I didn't want to copy him. I still have it, I've re-upholstered it twice."
Her design principles will sound familiar to anyone who has ever paired a sparkly heel with a jean because they saw her do it. Juxtaposition is important, with a mix of modern and vintage, textures, and a contrast in finishes. Nothing should be too perfect. In one episode, she tells the contestants to try smearing yogurt ("only the fully cultured stuff, not non-fat") onto terra-cotta pots to give them an instantly soft, weathered patina that says, "Bunny Mellon's garden" rather than "$9.99 at Target." Form and function should be equally considered. Couches should be squashy. She's not a fan of more than two decorative pillows. While working on a design project for a family with three young boys, she gently criticizes one team for selecting too many pieces with glass.
Lyons is grateful to be currently designing spaces, not clothes. "I lived in a world that was fast. Fashion was constantly reinventing. As soon as you made something, it was on sale. But building a life and a sense of personality in your home, it's more steady. It's nice." She adds, "A chair also doesn't look at themselves and think, I don't look cute. A chair is like, Hey, come sit on me. It's a slightly easier avenue to please someone."
The urge to please people might be what makes Lyons so unusual as a designer. Part of the impetus for starting Lyons L.A.D. came from the inquiries she received from friends and family, of all income levels, asking her to help them to make their homes functionable and beautiful. "I thought, Maybe there's something here. Maybe here's a way to help people. We used to call the Fashion department at J.Crew "Creative Services." You are being of service. Solving a problem. It's an offering. That's what creativity is for – to be of service," she explains.
This magnanimous take on creativity is, in the end, what brought Lyons back. "Helping someone feel good or attractive or good in their skin is a gift. You're sharing your work with them and saying, I hope this works for you.." Whether it's her show, her lashes, her hotel, or however many unnamed projects she's got on the horizon, Jenna Lyons just hopes you like it.