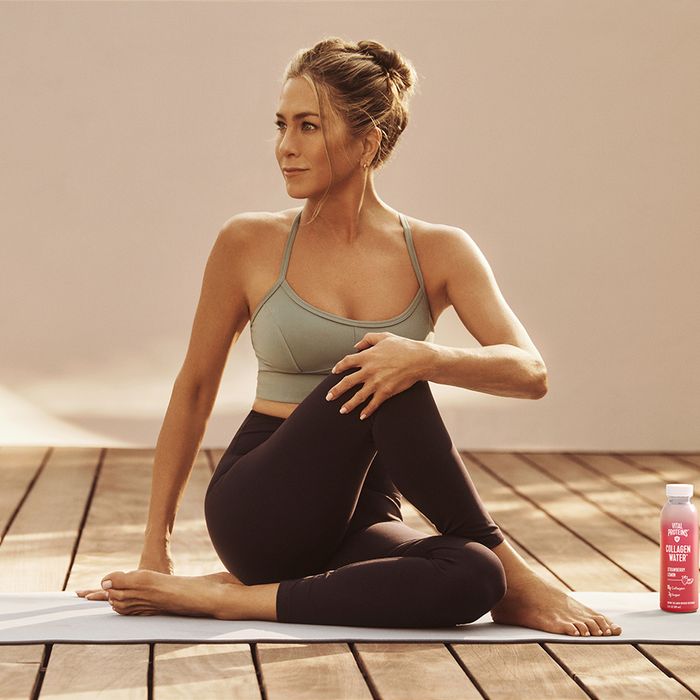 Jennifer Aniston.
Photo: Courtesy of Vital Proteins
Jennifer Aniston, noted beauty spokesperson, has shown us how to get smooth skin, healthy hair, and a hydrated bod. Now, she's here to explain how this whole ingestible collagen thing works. Today, Vital Proteins welcomed Aniston on board as the collagen brand's new chief creative officer and star of their new campaign.
As the former, Aniston will be putting her "spin" on new product innovations and overall brand strategy; as the latter, she'll be building greater awareness around the benefits of collagen and how it fits into her everyday life. "Collagen is the glue that holds everything together. I've always been an advocate for nourishing your wellness from within, which is why I started using Vital Proteins so many years ago," Aniston said in a statement. "Now to have the opportunity to be a part of the brand in a bigger way, as Chief Creative Officer, is very exciting to me."
Collagen is the body's most abundant protein. It helps support hair, skin, nail, bone and joint health, making it a nice fit for Aniston, who has long had dreams of spreading wellness from the inside out. The actor has been a fan of Vital Protein's particular blend of body glue since 2016, which Kurt Seidensticker, Founder and CEO of Vital Proteins, says make the partnership "so unique and, more importantly, authentic." "We are teaming up together to inspire the world to live healthy, and more vibrant lives," he added in a statement.
We'll all get a healthy dose of that inspiration next month, when the new campaign starring Aniston drops. It promises to be a day-in-the-life look at the A-lister's wellness routine, which includes some cardio, lots of natural light, and her favorite VP products, including the famed, fan-favorite Collagen Peptides that you can mix into anything your heart desires.