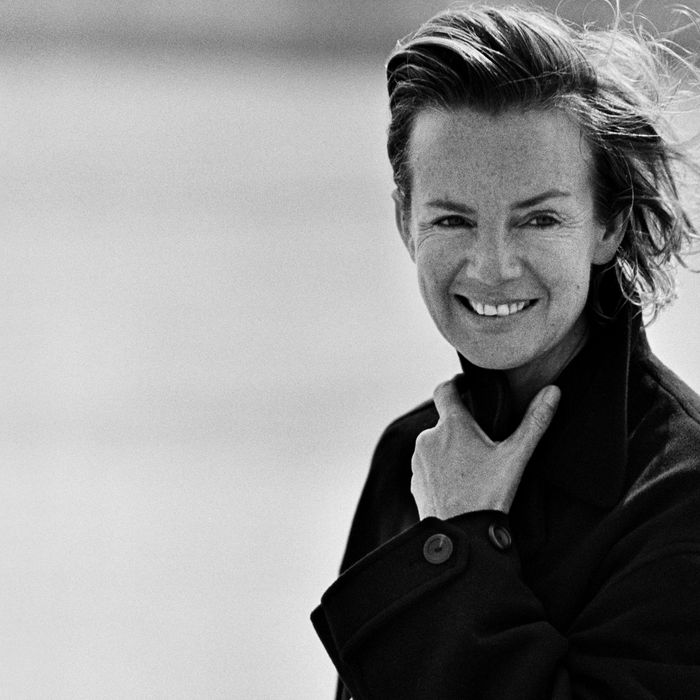 Photo: Peter Lindbergh/Courtesy of Jil Sander x Uniqlo
Back in 2009, Jil Sander launched +J, her collaboration with Uniqlo, and people went nuts. It was something of a fashion miracle: For the first time ever, customers could buy the German designer's luxuriously minimalist clothing for a relatively affordable price. The premise was especially appealing in the thick of the Great Recession, when people wanted to look smart and professional without spending a lot of money. On the day the collection launched, lines stretched down the block, prompting the Observer headline: "Minimalists Mob Soho."
And now she's back. Eleven years later, in the middle of a global pandemic, Sander, now 76, has returned to the Japanese fast fashion retailer with clothes that she hopes will inspire people to get dressed again. "The pandemic added urgency to the project," she told the Cut in an email this week. "Even great clothes, I feel, can encourage us all to get ready for a new beginning. To me, +J is like a little present that I can contribute."
Below, a conversation with Sander about sweatpants, turtlenecks and everything in between.
Hello! I'd like to start with your current surroundings. Where are you located right now? Can you describe this place? What does it smell like? What kind of chair are you sitting on?
For most of the year, I have been surrounded by my studio with a view of Hamburg's inner-city lake, Alster. The rooms are bright and uncluttered and there are big trees in front of our large windows. A long wooden table runs through most of my studio, filled with books, magazines and files. And there's the rich smell of autumn leaves in the air, whenever we open the windows. I am sitting on a Wishbone Chair, designed by Hans Wegner.
What are you wearing as you write these answers?
I'm wearing a cashmere turtleneck in dark blue with flannel trousers.
What shoes do you wear around the house?
Chelsea boots.
Do you ever wear sweatpants? There don't appear to be any in the latest J+ collection. If yes, what makes a good pair, in your opinion?
Yes, since I am a walker, I do yoga and gyrotonics in them. They need to be from a functional light material, be perfectly cut, and feature an optimal dry fit.
It's been almost 10 years since your last +J collection in 2011. Why return now, in 2020? What influenced this decision?
I stayed in touch with Uniqlo, and we considered a restart of +J more than once. Creatively, I was busy with other projects, building, gardening and preparing a museum exhibition of my work in Frankfurt. I never stopped designing in my head, and now I felt ready for a new collection. I wanted to react to disposable fashion. And Uniqlo's buying power, logistics, and distribution network make it possible to design high-quality clothes with a contemporary message at democratic prices. The pandemic added urgency to the project. Even great clothes, I feel, can encourage us all to get ready for a new beginning. To me, +J is like a little present that I can contribute.
What role does a uniform play in people's lives today, and how is that maybe different from the role it played a decade ago?
As far as I am concerned, my design attitude [regarding] uniforms hasn't changed. I still look for deceivingly simple, but highly sophisticated solutions to contemporary fashion requirements. But the world has changed a lot. In our times of crisis, we want more essential clothes with an ethical dimension. They should shelter us, show our attentiveness to details, and convey our energy to face the world. I also feel that we need more softness, kindness in clothes. And since I want to keep the individual aura of a person well intact, I was looking, more than ever, for three-dimensional forms and attractive movement.
You said in an interview with Uniqlo that you "can sense the need for contemporary sophistication" right now. Can you speak a little bit more to what you mean by that? What brought us here? The chaos and noise of social media?
Relaxed and unobtrusive clothing has been at the forefront for quite a while. But in a time of crisis, when our daily life alters completely, yesterday's looks and behaviors no longer seem real to us. In home office days, we may continue to wear our dated wardrobe, but it gets associated with the lock-down. In this situation, we need and wish for clothes that can give us the energy to pull through, to feel respected and in possession of our wits. We need tokens for a fresh start.
As to social media, young people are starting to write letters again. Even social media are now a characteristic feature of a recent past which seems far away. We are ready to experiment with more understated forms of expressing ourselves.
You believe that clothes should serve the wearer. Has the pandemic changed or expanded what this means to you? A high collar covering a person's face has an entirely new function, for example.
That's a good example. A high collar asks for new proportions and different aesthetics. And I see it as an alternative to the hoodie, with more of a couture possibility. I also think of a socially interactive service to wearers that can be supportive to them. Sophistication in clothes calls forth attention, openness and human interest, since it underlines the individual. The pandemic, and even the masks, make us more curious about the essence of a person.
How does comfort fit into your design process?
Casual comfort has become essential over the last decades, but it need not be bought by listless clothes. I am looking at comfort as a design aspect for new forms and silhouettes that still define the body in an energetic 3-D silhouette.
In 2009, you sought out to refine the "modern basics" discipline. Since then, "modern basics" has become a startup catchphrase, with direct-to-consumer brands like Everlane offering tailored white T-shirts at relatively affordable prices. What do you still feel is missing, or lacking in this space?
I believe in architectural clothes. Today many of us shop digitally and make our decisions from photos. This means that the sculptural dimension of fashion is almost forgotten. I start the design process with the development of fabrics and hybrids with interesting spacial and tactile qualities which inspire me and help in the design process. The key to fresh clothes to me lies in innovative materials which lead to contemporary solutions with new cuts and proportions.
You've always been concerned with how clothes hang on real human bodies. In the last decade, there's been a push for fashion to include a wider range of body types. Are you thinking about size inclusivity more in your work today?
I have always been very conscious of different sizes and bodily proportions. I conceived my collections according to different global body types and proposed combinations accordingly. From a certain size, we carefully redesigned the grading and proportions completely on life models. With +J, even though the collection is quite concentrated, we follow the same standards.
What makes a perfect turtleneck?
The turtleneck is my second uniform next to the white shirt. It needs to be elastic, not too tight and not scratchy. I look for a beautiful cut and quality material, and I keep a selection of different materials and color shades.
What is something (not designed by you) that you've had in your closet for the last decade?
Monster boots with chunky platform rubber soles and shoes.
What is the most stylish film you've seen in recent memory?
Three Billboards Outside Ebbing, Missouri with a marvelous lead actress.
What is your go-to coat this winter?
An oversized chesterfield coat from the +J collection.
Shop the Uniqlo J+ collection here.