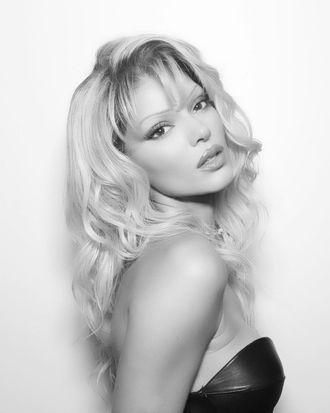 Kendall Jenner
Photo: Kendall Jenner/Instagram
Another day, another mind-bogglingly lavish Kardashian birthday party hosted amid a continuously worsening pandemic! This one was thrown by Kendall Jenner, who turns 25 on November 3, and comes right after her older sister Kim was roundly mocked for celebrating her 40th turn around the sun on a private island to "pretend things were normal just for a brief moment in time."
Kendall's event was more low-key, I guess, in that it didn't involve chartering a private jet. But still quite over-the-top: On Saturday night, around 100 celebs showed up to Harriet's Rooftop at Hotel 1 in West Hollywood to celebrate Jenner's birthday and Halloween; while many guests donned elaborate costumes, it appears that not one wore a face mask. One photo that's been circulating on Twitter shows a festive, Halloween-themed disclaimer warning guests not to post on social media — something that everyone in attendance, including Jenner herself, seems to have roundly ignored.
In the days since the birthday-slash-Halloween party, photos and videos have surfaced of the various attendees: the Weeknd, who dressed as the Nutty Professor; Saweetie, who came as Mystique; Justin and Hailey Bieber; Paris Hilton; and Jaden Smith, who donned an oxygen mask, leading some to believe he was dressed as a coronavirus patient. (Others argued that Smith wouldn't do something so insensitive, opining that he was supposed to be John David Washington in Tenet.) The birthday girl went as Pamela Anderson in Barb Wire.
All around, ill-advised! While Entertainment Tonight reports that guests were required to take rapid COVID tests upon arriving at the party, and were not allowed to enter until receiving a negative result, Jenner is nevertheless facing criticism for being wildly out of touch. In social-media posts from the event, no one can be seen wearing a face mask, save for the waiter who was tasked with holding Jenner's cake while she blew out the candles.
Another good rule of thumb, for us all: If you feel compelled to host a party amid the pandemic that you wouldn't want to appear on social media, maybe just hold off for now.