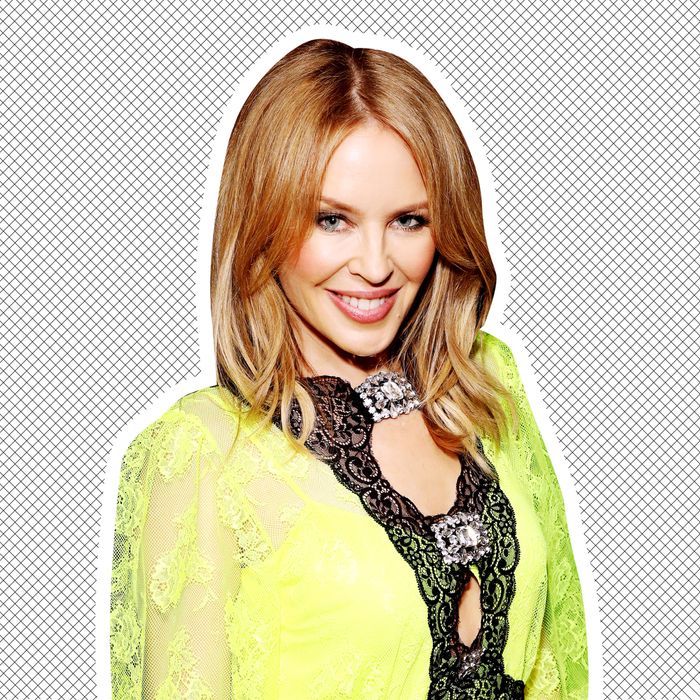 Yeah, the word icon gets tossed around casually these days, but I'm not being dramatic when I say it's a title Kylie Minogue has earned. She has released 14 albums and won more than 200 awards in her decades-long career, and you know her even if you aren't a superfan — you've danced to "Can't Get You Out of My Head," or you've seen her in Moulin Rouge.
On Friday, she's releasing Disco, her 15th album, and if it's anything like the first single — "Say Something"— Minogue is about to infuse some much-needed joy into a scary year. Minogue chatted with The Cut about her new album, her longevity as an artist, and when we might be able to finally try her wine line.
I got to hear a little bit of your new album, Disco — it's so joyful and makes you wanna dance. How does it feel to be releasing it right now?
There are a sum total of zero discos happening. Still, people are turning to music, perhaps even more so. There's a different joy in it now. But, for me, it's ultimately about connection, whether it's through streaming or live performances. We're all trying to find joy wherever we can.
You have such a devoted fan base — what do you hope they get from the new album?
The more I think about disco and explain what disco is — can we make it a state of mind? When we were out and you could go to a club, sometimes you shut your eyes and it's just you dancing, you know? Perhaps we can reverse that — you are on your own, but you shut your eyes and hear that music. When I was listening to the first edit of the album, l stopped everything and put the Apple-pips in (as I call Airpods). I just submerged myself into the album and shut my eyes. I felt like I was in another world. Let's just hope the disco is within. We have to keep the dream alive and connect in different ways.
You've stuck around in an industry that's notoriously tough on women. What have you learned from that longevity? And was there a point in your career when you felt like you'd "made it"? 
I'm 52 years old now. I was 19 when I started. It's a well-known and much-talked-about fact, but a lot of creatives do have imposter syndrome and doubt, and it's one of the things that keeps you going. I have that, too, that doubt of, How do you know when you've made it? I did allow myself a moment during the "legend" slot at Glastonbury last year to think, This really is something. But if I were ever to fully reach that point of feeling like I'd made it, I think the drive and the fire might not be the same.
How do you feel like you've seen the music industry change for the better? And how do you feel like you've changed as an artist? 
I was so green when I started. I just learned as I went, and I had to learn a lot in a public way.
As a woman, I think the industry is in a better place [than it was]. Earlier in my career, there were plenty of times where it was uncomfortable, but it was a sign of the times — the '90s were all the lads mags, where you're in a bikini. I weathered that storm, but I certainly don't feel that pressure so much anymore, which could be my experience and my age. But I also think it's the climate.
This is kind of a two-prong question: When is your wine going to be available in the U.S.? 
There's so much desire for it! I believe they're working on it. I would love you guys to try it.
Part two: What singles of yours would you pair with each wine? 
You should see my face. I'm really, really trying to go through the rolodex. Off the top of my head, I'm going to say "Slow" would be the Merlot. "All the Lovers" could be the Rose. And the Sauvignon Blanc could "Can't Get You Out of My Head." I'm probably still going to be thinking about this at like 3 AM.