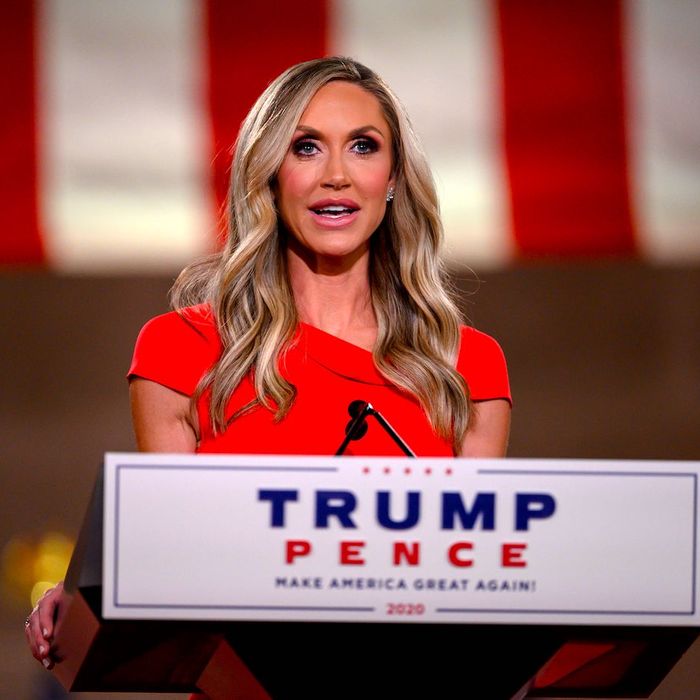 Lara Trump, alleged congressional hopeful.
Photo: NICHOLAS KAMM/AFP via Getty Images
We have heard a lot from the Trump campaign in recent weeks — arguably too much, given that the 2020 election has already been called, and not for Trump. Maybe you hoped that, the current president having lost his bid at a second term in office, we would never have to hear from a Trump campaign ever again, and if that is the case then I am sorry: According to the New York Times, Lara Trump is considering running for the U.S. Senate in 2022. It never ends!
The Times reports that Lara — a Trump by marriage, specifically to Eric Trump, the younger of the president's two adult sons — has her eye on the seat soon to be vacated by Senator Richard Burr of North Carolina. Burr plans to retire at the end of his term, and Lara, who is originally from North Carolina, would potentially like to replace him. This according to three of her "allies"; she declined to comment to the paper.
Lara is very far from the only prospective candidate said to be mulling a run. The Times names at least five other possibilities, all of them politicians, one of whom has apparently secured the president's support. But in addition to working as a personal trainer and a television producer, Lara has functioned as a mouthpiece for the Trump campaign — a job she seems to have landed through marriage. Still, as you may recall, she was called upon to spin the president's apparent encouragement of aggression against Michigan governor Gretchen Whitmer on network news. She also campaigned alongside far-right conspiracy theorist Laura Loomer in Florida, and mocked President-elect Joe Biden's speech before speculating about his "cognitive decline" on CNN. On top of all that, she has reliably peddled her father-in-law's baseless claims about voter fraud. In Kellyanne Conway's estimation, she "would be formidable," so there's that.
"She's very charismatic," Trump campaign adviser Mercedes Schlapp told the Times. "She understands retail politics well, and has a natural instinct for politics." Not that a lack of any of those traits has ever stopped a Trump before.