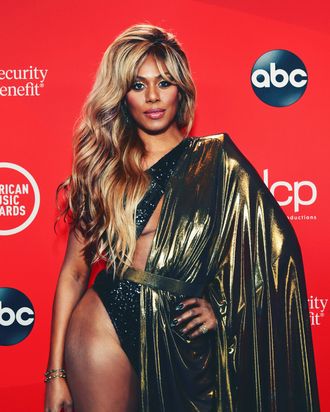 Laverne Cox.
Photo: Emma McIntyre /AMA2020/Getty Images for dcp
Actress Laverne Cox said over the weekend that she and a friend were targets of a transphobic attack in Los Angeles.
In a ten-minute video posted to Instagram, the Orange Is the New Black actress said she was taking a socially distanced walk with her friend around L.A.'s Griffith Park when a man approached asking for the time in a manner they deemed aggressive. Cox's friend told the man what time it was, to which he replied, "Girl or guy?" referring to Cox. The man then physically assaulted Cox's friend, according to her account. "The guy is like hitting my friend," said Cox, "and then my friend is going toward him." The brief altercation prompted Cox to get out her phone and dial 9-1-1, but by the time she'd placed the call the unidentified man ran away. Cox said both she and her friend are "OK" now.
Cox, visibly shaken, debriefed with her friend then went home and recorded the video, where she wrestled with what had just happened. "Who cares if I'm trans?" she said, "How does this affect your life?" Cox added that though she has a long history of being harassed on the street for being perceived as trans — a history she has been quite open about in the past — the sudden vitriol never ceases to surprise her, especially during a socially distanced walk where "I'm in a hoodie and yoga pants, I'm completely covered up, I've got my mask on."
The FBI's most recent data on transphobic hate crimes, from 2019, indicates that attacks based on gender identity are rising significantly, with 227 incidents reported last year. These numbers, based on data from law enforcement agencies which are not mandated to report such incidents, are undoubtedly low (last year less than 15 percent of law enforcement agencies reported hate crime data to the FBI).
"It's not safe it you're a trans person," said Cox. "Obviously I know this well. It's just really sad."