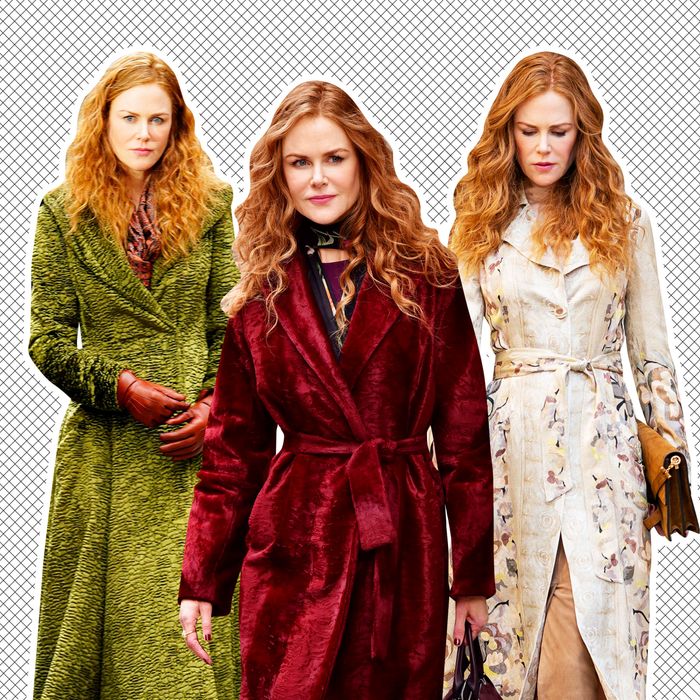 Photo-Illustration: by The Cut; Photos: Getty Images
HBO's new miniseries, The Undoing, is a melodramatic murder mystery in which Nicole Kidman plays yet another tense-faced rich lady on the verge of a mental breakdown, and Hugh Grant tries to mask sinister behavior with his dimples and English charm. The plot revolves around their characters, Grace and Jonathan Fraser, and the turbulence that takes over their marriage when Jonathan is accused of murdering a mother at their son's private school. It's a clichéd thriller set in the Upper East Side that probably wouldn't get much attention without the A-listers, but it does have one extremely redeeming quality: Grace's coats. Like anyone who lives in a townhouse across from Central Park, she has a new coat for each day, and I imagine that being wrapped in these gorgeous body warmers helps ease the discomfort of being married to a suspected killer.
I'll start with my favorite: this velvet (velour?) blood-red number with a belted tie that evokes a classy update on Hugh Hefner's bathrobe. In it, Kidman looks like a fall leaf incarnate — not a woman whose life is in absolute shambles.
A close second for me has got to be this sexy alligator coat, which would make anyone else look like a swamp monster. But Grace can really pull off mounds of moss-colored fabric, complete with a Little Red Riding Hood–esque hood, which must be useful for hiding from the swarms of reporters wanting to know if her husband is a murderer.
When it comes time to attend a black-tie fundraiser event for her son's elite private school, Grace naturally reaches for her fancy cape. This sartorial wonder of gem-studded, appliquéd flowers is the most impractical of all the coats, but you know what? I'm here for that rich-witch energy.
Then there's this absolute cupcake of the coat world. Even though Grace has probably just returned from a stressful meeting with the police, she looks like she's on her way to high tea with the queen. I'll say one thing: Girlfriend really knows how to rock a belt tie.
Now we've arrived at the classic plaid wool coat — a nice palate cleanser from all the statement pieces and proof that sometimes Grace just wants to feel like a regular person who could easily buy a knockoff of this look for under $100. It's a good one for brooding in, whether about a high-profile murder or just a regular problem at work.
Lastly, there's this refined wool trench that makes Grace look like someone who requests dairy-free whipped cream "on the side" and refers to the season as "autumn." The matte red is a tad less flashy than her regular wheelhouse, and perhaps reflects the fact that later in the season, bright colors just don't feel like the right look for her hubby's criminal trial.