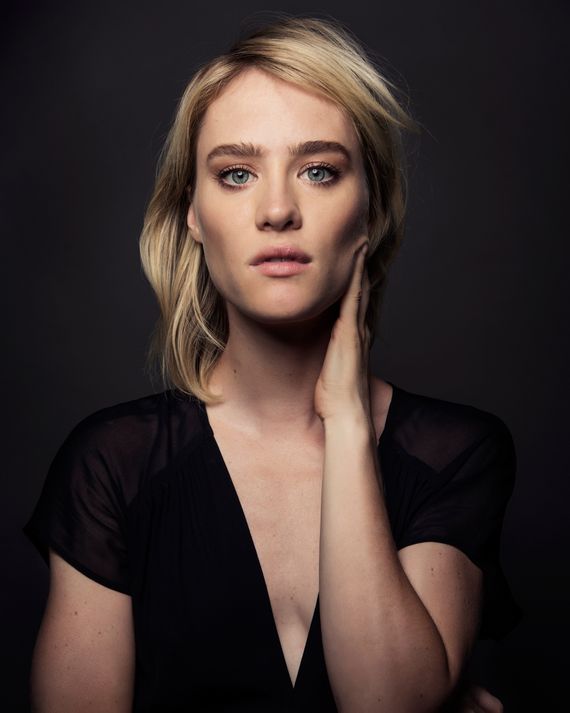 It somehow feels very appropriate for 2020 that my first question for the 33-year-old Canadian actress Mackenzie Davis, co-star of the lesbian holiday rom-com Happiest Season, makes her cry.
Davis is speaking to me from a dim, modern-looking London Airbnb. Her long hair is pulled back and has been dyed back to the blonde that it wasn't in Hulu's Happiest Season (her character is a brunette). After I mention the fraughtness of this moment — the pandemic, the election — she stands and ducks out of the Zoom window momentarily. "Sorry," she says when she returns. "My kettle was boiling, and I was starting to cry so … just do both. Sorry, I've never cried in an interview before."
It has been a hell of a year, we both acknowledge, with a lot of never befores. I tell her that basically anyone I talk to who's going through a hard time feels as though they need to append their woes with a disclaimer. Davis does the same, making sure to acknowledge that "the past four years have been real hell for so many people — at the very least of them me, because of certain demographics that I fit into. I've been able to not feel the weight of some of the monstrosity." At the same time, she says, not wiping away her tears, "I think it's real torture for most people to be faced with so much volatility and anger and divisiveness all the time."
In the face of this particularly difficult period, Happiest Season promises a form of escapism for a lot of people. Although I'm not usually a rom-com watcher (I've seen Love Actually, and that's about it), I had been looking forward to Clea DuVall's cinematic project ever since I heard about it. As a queer moviegoer, I've seen enough angsty flicks to last me a lifetime — the "Bury Your Gays" trope is so prevalent it has a name — and I wanted to see something so fluffy that it would carry me away on a Sapphic cotton cloud. I wasn't expecting something that would make me cry as much as Happiest Season ultimately did. Then again, a general sense of being emotionally frayed seems to bleed into the air.
Davis stars in the movie as Harper, who brings her girlfriend, Abby, played by a lovingly brooding Kristen Stewart, home for the holidays. Harper isn't out to her family, however — nor does she want Abby to let her family know that she herself is a lesbian. To my surprise, I was genuinely devastated by Abby's plight. Despite the film's humor (Abby is literally trapped in a closet!), my heart broke over and over again as I watched Harper become a stranger to her girlfriend. "I am not hiding you," Harper pleads to Abby during one argument that had me sobbing. "I am hiding me."
It's a story I hadn't seen much onscreen before, rom-com or not. How does it feel to be a part of this pop-culture landmark?
"Kristen and I had talked about [how] if it came out, we would feel so jealous that we didn't get to be a part of it. It's special culturally and socially, but it's also special personally," Davis says. "It's important to me to politically and ethically stand behind the things and the images that I contribute to the world. But not always in an overtly political way. This movie in particular feels like it's only political in the liner notes. It's political in how sort of standard it is — a standard Christmas rom-com."
"Political in the liner notes" is perhaps an apt way to describe many of Davis's roles, which include Yorkie in the Emmy-winning Black Mirror episode "San Junipero" and characters with a strong gay subtext, like Grace (paired with Dani) in Terminator: Dark Fate. These characters haven't gone unnoticed by the internet, especially on Tumblr, where Davis has a strong queer fanbase. There, her fans delight in memes like the one depicting Yorkie in a plaid shirt saying, "Hi, I'm gay, and you are?" (Although Davis shies away from discussing her private life, she has identified as straight in previous interviews.) Other past roles — as Cameron Howe in AMC's critically acclaimed Halt and Catch Fire and in a number of shorts and feature films, including Always Shine and Tully — are laser-focused on female friendships. How much strategy, I wonder, went into choosing characters that impact the ways women and queer people build confidence?
Davis explains that, for her, it was never explicitly about representing queer women. "It always felt like representing women in a way that I wanted to be represented or identified with," she says, "and I felt proud of the versions of women I was putting out into the world. I always felt like I didn't understand, when I was younger, the secret combination that made you desirable to men." Laughing, her face lively with the memory, she describes turning down an audition for a role on a TV show "where her whole identity was that she got finger­banged by a quarterback and he lost his ring inside of her."
Although this year has cut the dream short for now, Davis one day hopes to work onstage. "It's been something I've been aiming to do since I was 25 years old," she says. "Every year it's like, 'Okay, you just need to get a green card.' Then I got a green card, and now theater doesn't exist anymore. I'm actually working with this amazing master of the text of Shakespeare who's worked at the Globe for 30 years, and we're reading Shakespeare together." Her dream role at the moment is Hamlet, but once she puts on a few years, she'd like to play Polonius.
We ended up talking for 15 minutes over our given time, and I could have talked for much longer — in fact, we exchanged emails over the following days so I could pass along links to BBC radio plays. She tells me to stay in touch and let her know if I become "overwhelmed with loving anything." I find myself dwelling on these words, reminding myself to love things with my whole heart despite everything — even, perhaps, as much as a character in a rom-com might.