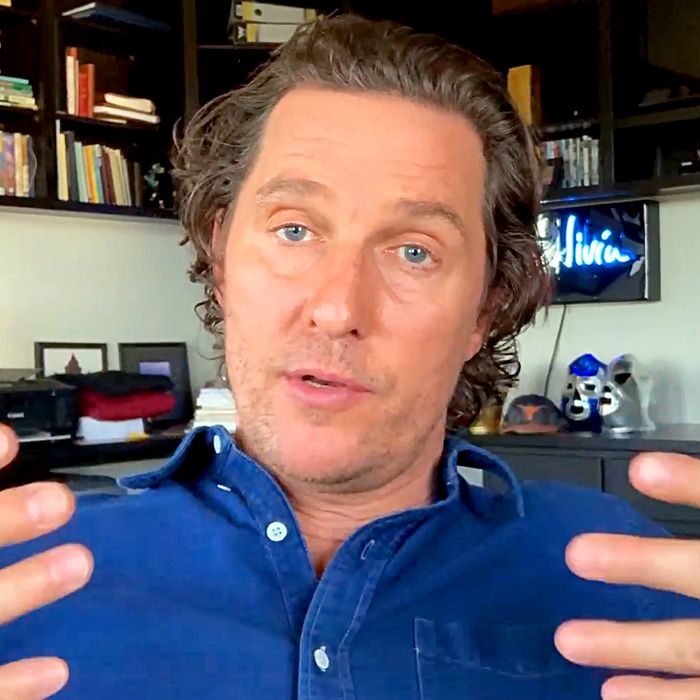 Matthew McConaughey and his self-clipped fingernails.
Photo: Getty Images for Global Citizen
This year, we've witnessed the glossy rise of manicures on men, and now, new male nail grooming tips are slowly coming to light.
The Daily Mail reports that in a new print interview with Empire magazine promoting his memoir Greenlights, relaxation expert/influencer Matthew McConaughey bravely opens up about indulging in the humble nail trimming process. "I'm an extremely talented fingernail clipper," he states, before mentioning his preferred method, which includes cutting-edge tools that go beyond than the singular clippers and nail file most have handy.
"I'll get a headlamp on, glasses. Sit down with a cocktail and have a nice 45-minute session. It's very relaxing to me for some reason." The loud clicks of your overgrown finger-keratin flying into the air probably do sound more soothing when paired with a calming adult beverage. Also soothing: a pace that is so leisurely, it requires one to spend roughly 4.5 minutes (slightly longer than the entirety of Lionel Richie's "All Night Long") clipping a single fingernail before moving on to the next.
In the interview, the self-care icon also reveals that he found (and stole) the perfect (hotel) robe for pampering sessions. "This one place had this very thin terry-cloth robe. When I wore it, if it was chilly, I was warm. If it was hot, I didn't get hotter," he said. "It was the perfect thickness and the loops were way down low. I nicked that baby." No word on if a replica will be added to the actor's Just Keep Livin' line of "Saturday clothes."
For more McConaughey-inspired unwinding, don't forget to like and subscribe to his YouTube channel.