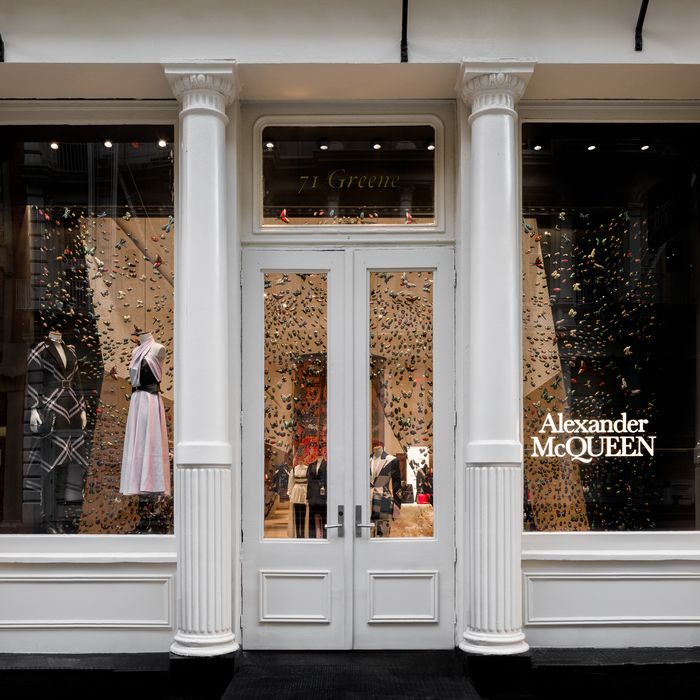 It's rare to hear about a new store opening these days, especially in New York City, but Alexander McQueen's first Soho flagship has been in the works for years. Designed by Chilean architect Smiljan Radic in collaboration with the house's creative director Sarah Burton, its doors finally opened Saturday, November 7, at 71 Greene Street — just in time for holiday shopping.
"This is a space for interaction and contemplation," Radic said in a statement. Radic is known for his domestic architecture and Burton felt that his affinity for natural materials and fine craftsmanship aligned well with the brand. The result is a tranquil shopping environment you actually want to spend some time in. The store's floors and walls are covered in wood, and visitors are guided through the space by rock and tree sculptures by Radic's wife, the sculptor Marcela Correa. "We use a lot of sculpture and rocks because sometimes in new places you need a sense of different times," Radic explained. "They give a complexity that new places don't have."
Timed to the store's opening, the house has also released a short film by Masha Vasyukova documenting the six-month creative process in 2018. Watch Vasyukova's film below to see how Radic and his wife collaborated with Burton.