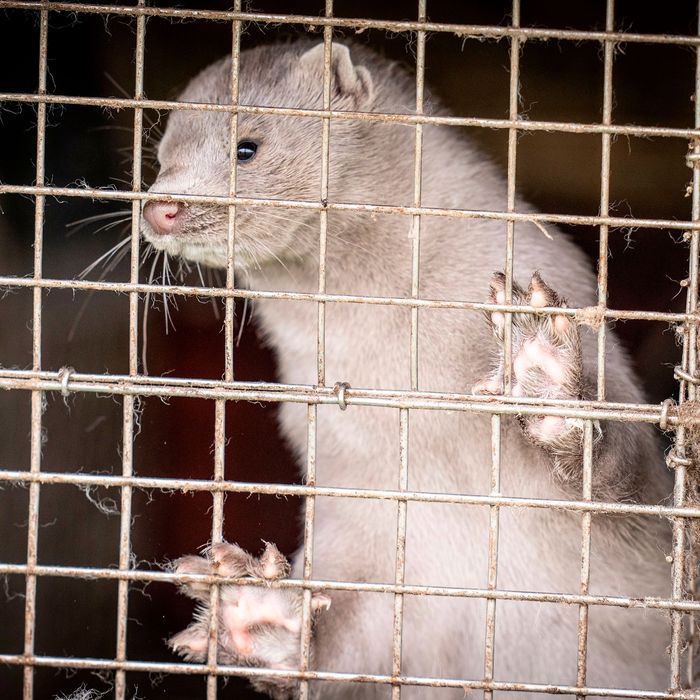 Photo: Mads Claus Rasmussen/Ritzau Scanpix/AFP via Getty Images
In extremely distressing animal news, the New York Times reports that the government of Denmark plans to slaughter millions of mink on more than 1,000 farms out of an abundance of epidemiological caution. COVID-19 is reportedly spreading through the country's mink population, and some officials fear it could result in a mutation of the virus that makes a potential vaccine less effective, a claim some experts are skeptical of.
Denmark's prime minister, Mette Frederiksen, announced the mass mink slaughtering during a news conference on Wednesday, heeding a warning from the head of the country's public-health and infectious-disease department, the State Serum Institute, who suggested the mutation could hinder the vaccination process. The World Health Organization said in an email to the Times that it had been "informed by Denmark of a number of persons infected with coronavirus from mink, with some genetic changes in the virus" which officials in Denmark are "investigating" for their "epidemiological and virological significance." The Associated Press reported that, according Denmark's health minister, half of the country's 783 cases "are related" to the strain found in mink.
Mink, a member of the weasel family, spread the virus to one another easily and experience mild symptoms, prime conditions for incubating mutations. And Denmark is the largest mink-fur producer in the world, killing 17 million for pelts every year. "It is very, very serious," Frederiksen said, "the mutated virus in minks can have devastating consequences worldwide." COVID outbreaks have also spread on fur farms in the Netherlands, the United States, Sweden, and Spain, resulting in millions of animals killed.
The significance of the mutation, while not immediate cause for concern, is something of an unknown, according to the Times. Experts have long understood that the virus mutates regularly so an odd variety isn't worrying in and of itself. For instance, research on one of the virus's mutations, called D614C, has not yielded any indication it would affect transmission or the vaccination process. Still the BBC reports that some scientists are demanding a total ban on mink production during the pandemic, saying it poses too great a risk.
Animal-rights group Animal Protection Denmark said in a statement that the best way to manage mink during the pandemic would be to "end mink farming entirely and help farmers into other occupations that do not jeopardize public health and animal welfare."