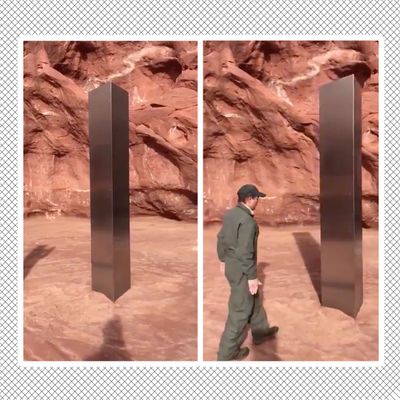 There's no way that mankind is responsible for this.
Photo: KSL5TV, @AndrewAdamsKSL/Twitter, @Photog_Steve5/Twitter
Last week, wildlife-resource officers were flying over the deserts of southern Utah, tallying all the bighorn sheep that roamed below them, when they spotted something jarring: Tucked among the glowing red rocks was a towering metal structure, jutting somewhere between 10 and 12 feet into the air. "We just happened to fly directly over the top of it," Bret Hutchings, the helicopter pilot, told a local outlet. In all his career, Hutchings said, the monolith is "about the strangest thing that I've come across."
In the days since, the helicopter crew has weighed a number of predictable explanations for the miraculous phenomenon: At first, they wondered if the structure belonged to NASA and had fallen from space; after concluding that it appears to be firmly situated in the ground, they decided it must've been installed, perhaps by a "new wave artist" or a 2001: A Space Odyssey super-fan. But they haven't seriously considered, at least publicly, what we are probably all thinking: That the metal structure clearly belongs to our alien neighbors.
Let's review what we know: This object was discovered in an incredibly remote area, where humans don't typically venture. If an artist or ardent movie fan was responsible for this, wouldn't they have proudly come forward to take ownership of this bizarre installation at this point? Are people really this bored?
A more realistic scenario, in my opinion, is that aliens are attempting to construct a new base on Earth, or maybe they decided to touch down on Earth to revel and groove, and, because they're unfamiliar with mankind's Leave No Trace principles, they weren't diligent about picking up all their belongings and detritus. I mean, does anyone know where Demi Lovato was a few weekends back?
Update, November 24: In a statement released yesterday evening, the Utah Department of Public Safety Aero Bureau finally acknowledged the possibility of extraterrestrial involvement, writing, "It is illegal to install structures or art without authorization on federally managed public lands no matter what planet you're from." (Emphasis ours.) We are pleased and encouraged to see them come around so quickly, and we look forward to the the Bureau of Land Management's decision on whether further investigation is warranted.