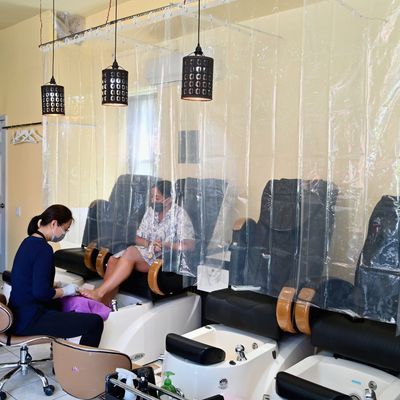 Photo: AFP via Getty Images
Nail salons have lost half their business because of COVID-19. The New York Times reported today that, despite the city's reopening, nail-salon owners are struggling to stay afloat and pay their workers and that business is dire.
By March, as more and more New Yorkers started staying home, many nail salons were already feeling the warning signs of the pandemic's effect on their business. When the city's shelter-in-place mandate took effect, these salons were considered nonessential businesses and had to shutter. In July, as part of the Phase 3 reopening process, nail salons were finally allowed to resume operations at 50 percent capacity. Although business picked up at first because of the pent-up demand, it has continued to dramatically plummet, with many salons now seeing little to no customer traffic.
The predominantly female and immigrant workers at nail salons, who already rely on meager tips for their living, have been severely affected. The Times spoke with several workers who said they were seeing fewer than ten customers a day and were struggling to afford groceries. Mariwvey Ramirez, a single mother from Jackson Heights, said her wages went from $700 a week to $400. Hannah Lee said her pay went from $1,000 a week to $300. According to a 2018 report from the UCLA Labor Center referenced by the Times, 81 percent of salon workers are female, and 79 percent are foreign born. If they are undocumented workers, they aren't eligible for unemployment insurance.
How can you help? Continue to wear a mask and practice safe behavior; surging virus cases will only make the situation worse. If you can, try to buy gift cards or certificates from your neighborhood salon. Prepay for services or buy products from the salon. Write good reviews for the salon online. And if you do visit in person, tip well.