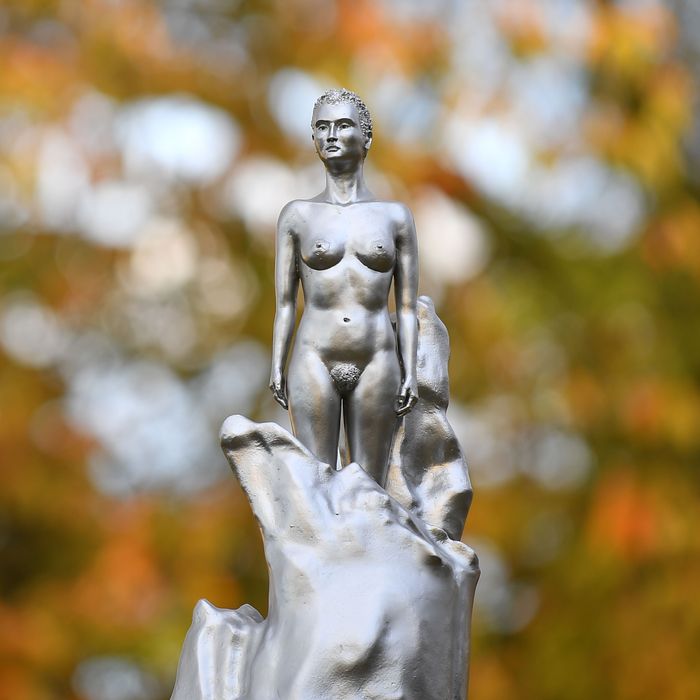 Hellooooooo, ladies.
Photo: AFP via Getty Images
The British have erected a statue to "mother of feminism" Mary Wollstonecraft in north London, and it is unexpectedly sexy? Rather than depicting Wollstonecraft herself, artist Maggi Hambling instead gave the world a silver lady to embody all the ladies, nude and toned and shapely. These choices have polarized the statue's public, some of whom have wondered, Where are the "Everywoman's" clothes? Why does she have the flat abs of a fitness influencer and a spherical topiary bush? Is this historically accurate? What is the point?
Well, as Hambling explained to the Evening Standard, "The point is that she has to be naked because clothes define people. We all know that clothes are limiting and she is everywoman."
"You can't be naked enough, can you?" she added, saying of the statue's physique: "As far as I know, she's more or less the shape we'd all like to be."
Because she died 200 years ago, I cannot tell you what Wollstonecraft herself would have thought about the aesthetic ideals exemplified by this conspicuously fit statue. She was more concerned with equalizing education for boys and girls in order to advance women's political and social status, as outlined in A Vindication of the Rights of Woman (1792). Based on her work, I can only speculate that she may have preferred to be remembered differently, but as Mary on the Green statue campaign chair Bee Rowlatt told the BBC, "Mary Wollstonecraft was a rebel and a pioneer, and she deserves a pioneering work of art."
"Her legacy was buried, in a sustained misogynistic attack," Rowlatt said. "This work is an attempt to celebrate her contribution to society with something that goes beyond the Victorian traditions of putting people on pedestals."
In one very immediate sense, it does do that: Rather than sitting atop a pedestal, our foxy lady sits atop a "swirling mingle of female forms," according to the Guardian. To me, it sort of looks like she's riding a geyser, but as you can see, the woman-to-swirling-forms ratio is all out of whack. It's hard to pin down exactly what is happening. Still, the vibe is vaguely sexual, I think you will agree.
That does not appear to be what people expected. "I don't for a second want to take away from the huge effort that they put into doing this. It is an amazing achievement, but what a waste of all the hard work," writer Caroline Criado Perez told the Guardian. "I honestly feel that actually this representation is insulting to her. I can't see her feeling happy to be represented by this naked, perfectly formed wet dream of a woman."
"Imagine if there was a statue of a hot young naked guy 'in tribute' to eg Churchill," writer Caitlin Moran tweeted. "It would look mad. This, also, looks mad."
Mad, sure, but maybe not the worst idea. Now that we have our Conventionally Hot Wollstonecraft, it seems only fair that we should get minimum one Buff Nude Churchill. For feminism!