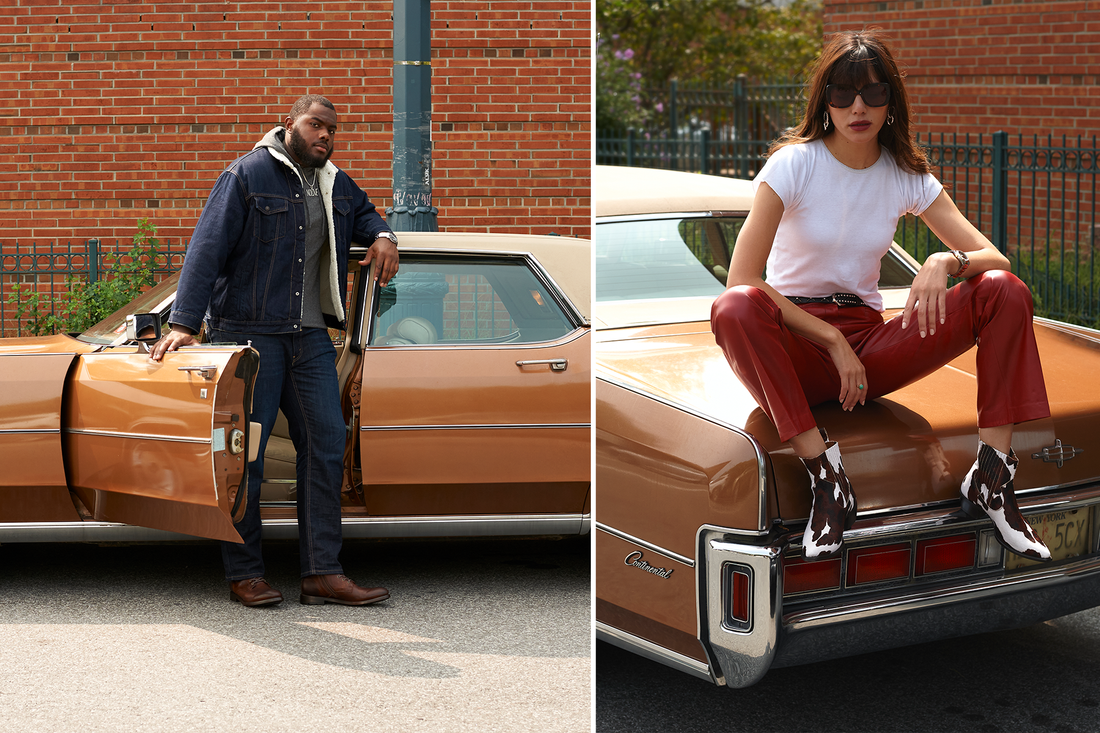 This year has been a chance to reconnect with our neighborhoods and get better acquainted with the blocks we call home for many of us. It's also been a reminder that there's nowhere quite like Brooklyn to do so. From the brownstones to the bodegas, the borough is home to communities that have come together in countless inspiring ways.
This fall, America's oldest footwear brand, Frye, is paying tribute to the people and businesses that keep these neighborhoods as vibrant as they are today. Its new campaign stars New York Giants offensive lineman Andrew Thomas and fashion influencer and model Natalie Lim Suarez on the streets of Fort Greene and will raise funds and awareness for Feeding America, an organization fighting hunger across the U.S.
Whether you're wearing Frye's Campus Boots to the Grand Army Plaza Greenmarket or Bowery Chukkas for a cruise to Fort Tilden, the 157-year-old brand has a style to suit every fall activity.
So, as we prepare to spend another season close to home, here's why there's no place we'd rather be than Brooklyn.
The
Parks
Are
Our
Playground
New Yorkers are used to spending summers picnicking in Prospect Park or taking in the views of the city skyline from the Brooklyn Heights Promenade, but this year, park season isn't ending as soon as the weather gets chilly. With social distancing in effect and opportunities for safe socializing limited mostly to outdoor activities, Brooklyn's grassy enclaves are going to be our go-to gathering places for the foreseeable future. Take a stroll in the Brooklyn Botanic Garden (free on winter weekdays!) and enjoy the last of the fall foliage, or pack a thermos of hot apple cider and head to Red Hook's Louis Valentino, Jr. Park, which has waterfront views of the Statue of Liberty. Just be sure to BYOB (blanket, that is) and wear a comfy pair of shoes, like Frye's shearling-lined Veronica Booties.
The
Sidewalks
Are
Our
Runways
Who needs red carpet events when you can step out onto the streets of Brooklyn and, within a few blocks, see a family gathered for a small outdoor wedding, an immersive theater event at a local community garden, fashion students sketching on their stoops, and locals dressing up for their daily constitutionals (because, well, when else are you going to?) Even masks — an accessory to which most of us rarely gave a second thought prior to 2020 — have become a fashion statement, with prints, slogans, and fringe bringing flair to the emblem of community care. Clearly, nothing can stomp out our need for self-expression, which is why Frye's cow-print Sacha Chelsea Boot looks right at home here.
Our
Neighbors
Feel
Like
Family
We've been leaning on our communities more than ever these days, whether by dropping off groceries for a neighbor, supporting local businesses, or just saying hello to the friendly faces in the halls. Living among 2.6 million other people means you never have to look far to find support, and this year, Brooklynites have proven their resilience and spirit. This fall, we're taking the time to support our neighborhoods — especially those in need — so we can all make it through as strong as ever.
This advertising content was produced in collaboration between Vox Creative and our sponsor, without involvement from Vox Media editorial staff.