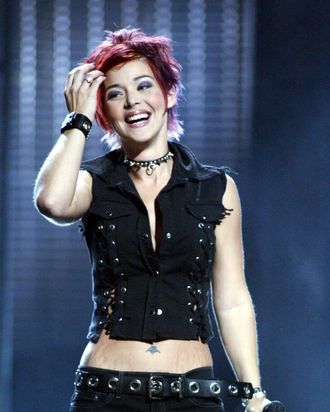 Photo: Ethan Miller/Getty Images
Singer-songwriter Nikki McKibbin, best known for finishing in third place on season one of American Idol, died on Sunday in a hospital in Arlington, Texas. She was 42.
McKibbin's husband Craig Sadler confirmed her death over the weekend, writing in a Facebook post that she died of complications from an aneurysm she suffered on Wednesday. McKibbin had briefly been kept on life support to honor her wish of being an organ donor, and was taken off early Sunday morning. "That shouldn't be a surprise to us," wrote Sadler, "even at the end she is still giving. She was so loved that I know thousands of you will be grieving with us." The New York Times reports that McKibbin's son Tristen Langley said of his mother's passing, "We just want the world to know, out of all the wonderful things she was, the most important thing to us is that she was an extraordinary wife, the most amazing mother a son could ever ask for, and an angel of a grandmother." McKibbin is also survived by a daughter, her father, her grandmother, and granddaughter.
In 2002 the Texas native entered the national spotlight as a contestant on the first season Fox's reality-TV singing competition American Idol, finishing third behind Justin Guarini and winner Kelly Clarkson. McKibbin was singled out with praise for her covers of Alannah Myles's "Black Velvet" and Janis Joplin's "Piece of My Heart." Her debut album Unleashed was released in 2007. A year later, she opened up about her struggles with substance abuse on Celebrity Rehab With Dr. Drew and appeared on reality shows Sober House, Fear Factor, and Battle of the Network Reality Stars thereafter, Variety reports.
Guarini wrote on Instagram that he remembered McKibbin as a "fiery, funny lady who could sing the hell out of a rock song with the same kind of ease and command she lovingly used to cut you with her twangy Southern wit." He also recalled that during her time on the show McKibbin's "own idol" Stevie Nicks sent her flowers and a card that read "You are the Gypsy that I was…" after she performed a rendition of "Edge of Seventeen."
A spokesperson for American Idol offered condolences in a statement, saying McKibbin "was an incredible talent" and "will be truly missed." Idol's longtime host Ryan Seacrest wrote on Twitter that she "was a superstar the moment she walked into auditions." Former Idol judge Paula Abdul also offered her condolences, calling McKibbin "a strong & spirited woman who always stayed true to who he was."