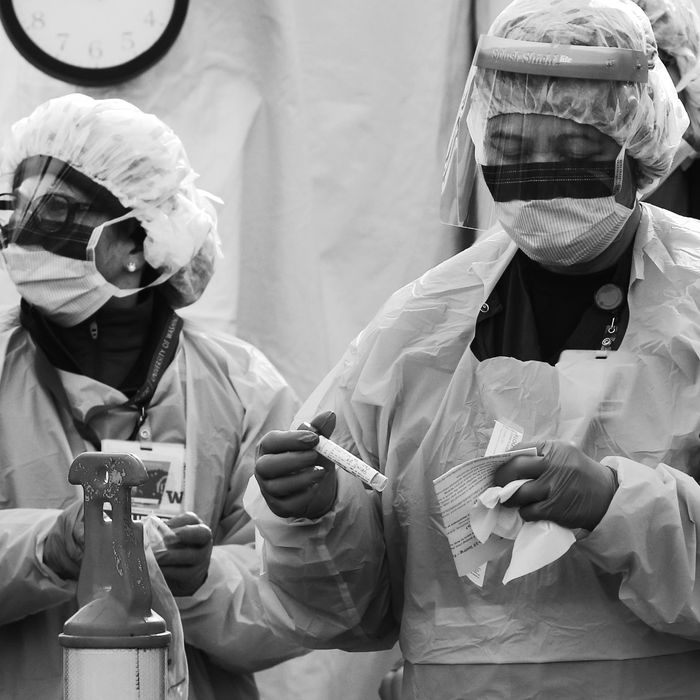 Photo: Karen Ducey/Getty Images
After a harrowing eight months on the job administering essential care to patients during the coronavirus pandemic and amid a drastic new surge in local infection rates, nearly 800 nurses at a hospital in the Philadelphia area have gone on strike.
The Philadelphia Inquirer reports that nurses at the St. Mary Medical Center in Langhorne, represented by Pennsylvania health-care union PASNAP, walked off their jobs Tuesday morning after negotiations with Trinity Health Mid-Atlantic, the Catholic health system that operates St. Mary, fell apart last week. Discussions broke down over what the nurses say are dangerous staffing shortages due primarily to the hospital's unwillingness to entice new hires with fair, competitive wages.
Kathy McKamey, who has worked as a nurse at St. Mary for a decade, told the Inquirer, "Nurses are literally fleeing to other hospitals 20 minutes away, where they can make $6 or $7 more an hour." Donna Halpern, a cardiac critical-care nurse at St. Mary, told the Bucks County Courier Times that lots of nurses left the hospital during the first wave of COVID-19 "due to layoffs, sickness, and fear." Halpern said, "We knew the second wave was coming, and we tried so hard to have a contract in place that would rectify our staffing concerns … Trinity had no interest in it. So here we are." PASNAP nurses have also been critical of the hospital for laying off housekeeping staff during the pandemic, making it harder to maintain a clean environment for patients and remaining staff.
Trinity Health is one of the largest national health-care organizations in the country and operates 90 hospitals across 22 states, with five located in the Philadelphia area. In 2019, St. Mary was the second-most-profitable acute-care hospital in southeastern Pennsylvania, according to research done by the Pennsylvania Health Care Cost Containment Council. In April, Trinity Health furloughed 350 workers, while executives, some of whom have made millions of dollars in the past few years, took 20 percent pay cuts, the Inquirer reports.
Officials at the organization disagreed with the nurses' description of their work conditions, saying their staff had rejected a compensation offer that was "very competitive." To keep the hospital open, Trinity Health has hired temporary nurses while the staff is on strike, and it has argued that the strike is poorly timed, given that the community is dealing with a massive COVID-19 surge. Just this week, Philadelphia announced new social-distancing restrictions: closing indoor dining and movie theaters and banning most indoor gatherings through the end of the year. Cases have been soaring throughout the state with 4,476 additional infections reported on Monday and a statewide testing positivity rate of 9.6 percent.
The Inquirer reports that many see the strike as a test of hospital workers' labor power at a time when they are very much in demand. As cases across the country spike, health-care professionals have been leaving the field in droves, mostly because of health concerns, needing to care for family members during the pandemic, and burnout. Public sympathy is on their side too. PASNAP told ABC, "The nurses feel they have no other means of making Trinity listen than to strike — for themselves, for their patients, and for what is coming over the next several months." Two more hospitals organized with PASNAP have also authorized a strike vote.