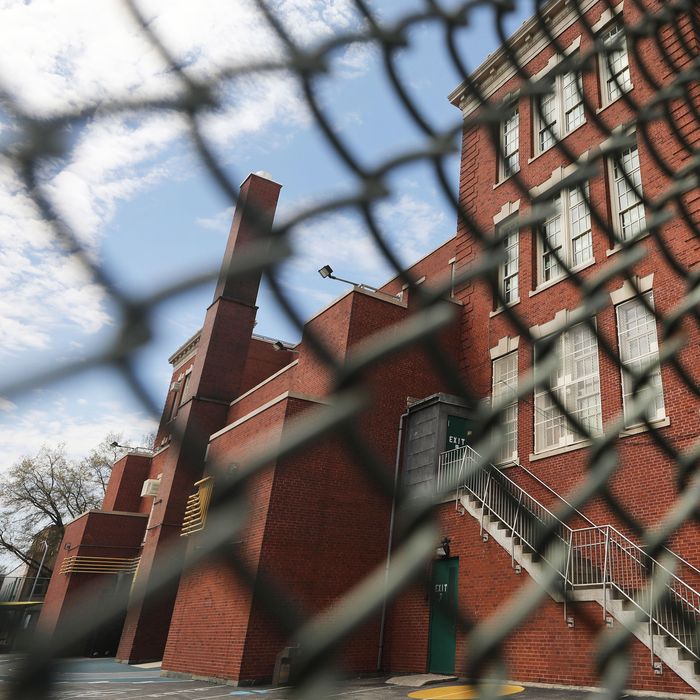 A public school stands closed on April 14, 2020, in the Brooklyn borough of New York City.
Photo: Spencer Platt/Getty Images
This is a developing story.
Eight weeks after New York City schools partially reopened for in-person instruction, they will close on Thursday due to rising coronavirus cases across the city, Mayor Bill de Blasio announced Wednesday afternoon on Twitter.
De Blasio had previously warned parents last week that a full closure may be imminent. Though the city's overall COVID-19 test positivity rate remains relatively low, the traumatic events of the spring are recent memories, and cases are increasing nationwide. A second wave of COVID infections in the city not only looks likely; it may already be here.
When closures begin on Thursday, the New York Times reported, many parents will scramble for child care for the roughly 300,000 kids who have been attending classes in person. Bars and restaurants, however, will remain open with limited indoor seating, a contrast that has frustrated parents and teachers alike. Both groups have also complained that the mayor's reopening strategy for hybrid learning was unrealistic, and would have required a teacher hiring spree in order to work. Some children still lack the technology or teacher personnel to learn virtually at home.