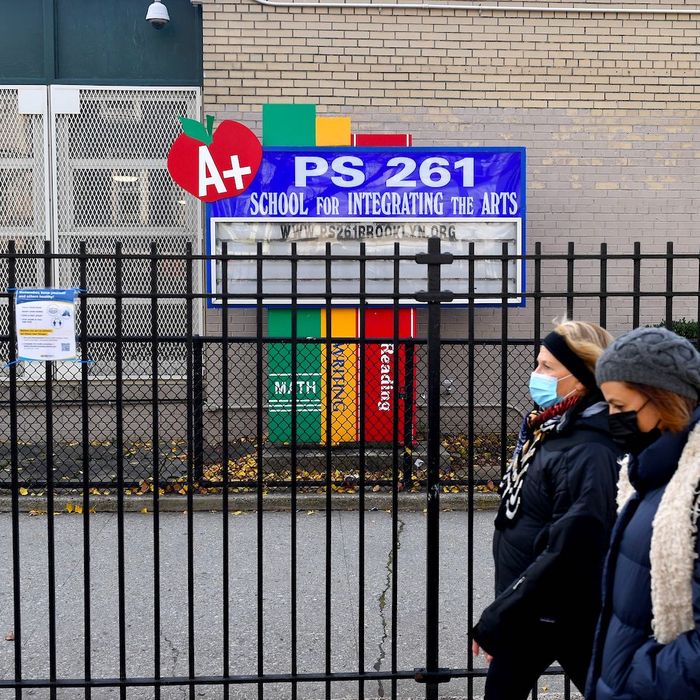 De Blasio has backtracked on some school closures, facing backlash from parents.
Photo: ANGELA WEISS/AFP via Getty Images
In New York City, as in many other parts of the country, new coronavirus infections have been on the rise in recent weeks. On November 18, the city hit an average of 3 percent positivity over seven days, triggering the closure of the nation's largest public-school system. Yet bars, restaurants, and gyms were allowed to remain open (albeit with caps on their hours and capacity) — despite evidence suggesting schools, and particularly grade schools, appear to present a much lower transmission risk. Faced with backlash from critics who accused him of prioritizing the city's businesses at the expense of its children, Mayor Bill de Blasio announced Sunday that, actually, elementary schools could stay open. There are some caveats, but according to the New York Times, eligible students may return to the classroom next month.
"Whatever happens ahead, we want this to be the plan going forward," de Blasio reportedly said at a news conference. "We know what we didn't know over the summer, we know what works from actual experience."
According to the mayor's office, in-person 3-K, pre-k, and K-5 education can commence starting December 7, while District 75 schools — which provide instruction to some students with disabilities — may reopen on December 10. Only students already signed up for in-person learning will be allowed back, a number that the Times ballparks around 335,000 of the city's 1.1 million public-school children. Those who opt in will need signed consent forms from their parents, and will undergo more frequent testing by the city. They will still be required to wear masks and maintain social distancing throughout the school day.
Notably, the school system is mostly jettisoning its hybrid learning model, a confusing system that had some students alternating in-person days with days at home. The program did not prove very popular, despite real concerns about remote learning: The extended isolation and reliance on screens seems to be taking a heavy toll on children's mental health and development, while parents (particularly women) have suffered in the scramble to work, teach, and tend to the kids, all at the same time. Still, confusion and the lingering expectation that schools might shutter during a second wave seems to have meant many parents chose to go all-remote. That option, at least, provided students some stability in the face of abrupt changes by the Department of Education.
But an online curriculum has proved particularly hard for students with disabilities that require more intensive support, and this month's closure announcement left parents of in-person learners in a lurch, obligated to reconfigure their schedules on extremely short notice. And it didn't make much sense, either, because positivity rates within public schools have stayed low. In October, random testing of school staff and students turned up only 28 positive results — 20 teachers, eight students — in a pool of 16,348 total people. Given that children (particularly younger children) seem less likely to contract and spread the virus than teens and adults are, elementary schools certainly look like lower-risk venues than restaurants and bars, which remain open at a reduced capacity. In other parts of the country, prematurely reopened indoor drinking and dining has correlated to spiking transmission rates, although the city kept its numbers relatively low over the summer.
Ultimately, state data decides whether or not bars and restaurants stay open, and under what terms. Both de Blasio and Governor Andrew Cuomo seem to think more restrictions may be coming, but on Sunday, de Blasio told reporters: "We have so much proof now of how safe schools can be." With escalated testing and closer monitoring of confirmed coronavirus cases, he added, "We feel confident that we can keep schools safe."