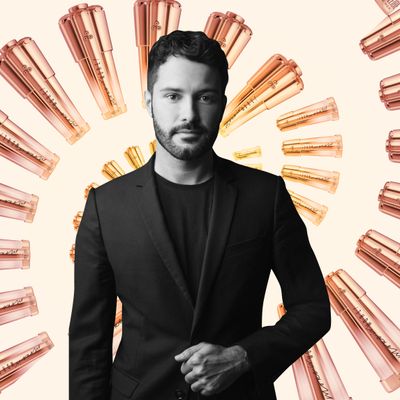 Photo: Courtesy of Judith Leiber
Scientific studies confirm that, of all the senses, smell offers the best recall. In "Scent Memories," the Cut asks people about the scents they associate with different times in their lives. Next up is perfumer Jérôme Di Marino, who has spent the past two years working on Judith Leiber's new, customizable fragrance, More Is More! Instead of focusing on a single scent, Di Marino created three unique fragrances that can be worn alone or mixed together thanks to a multi-chambered bottle equipped with Swarovski-crystal sliders that allow wearers to switch their desired scent combos. This seven-in-one fragrance is perfect for fickle noses or for that person who's notoriously hard to shop for. The Cut recently caught up with Di Marino to talk cats, coriander, and which combo smells most like love.
My first scent memory: In my childhood, I remember when I was around 4 years old or something, in primary school, my teacher would wear a fragrance that would fill the corridors and the entire classroom. It was a very creamy, embracing, comforting scent. What is crazy is that I started studying fragrances when I was 20, 21 years old; at school, we started learning about the composition of classical fragrances, and when I smelled it, more than 17 years later, I immediately recognized it: Guerlain's Samsara. I didn't know what she was wearing for all those years, but it's crazy the emotions scents carry through memories you didn't even realize you were keeping. I almost want to go back to the village I grew up in. I would love to see this teacher again and confirm with her, "Is this what you were wearing?"
Happiness smells like: Traveling. Sadly, lately we don't have many options, but I love traveling because it makes you see the world differently and you discover new scent experiences. I like being surprised. The unexpected inspires my day-to-day work. For example, I went to a souk in Morocco and you get this blend of flowers, like rose and orange blossom, and the smell of spices, like cinnamon, cumin, and coriander. There's the smell of dried fruits, and the leather used to make shoes and bags, and the smell of cedarwood from the nearby Atlas Mountains that's used to make furniture. As a perfumer, that idea of being surprised by a strong mix of scents filling the air — that makes me happy.
Love smells like: The smell of someone you love, their particular scent. But the most classical way we have of showing love is offering flowers and small delicacies and treats, two things that are pleasing to the nose and the mouth. In terms of an actual scent, it's a bit like if you mixed the floral fragrance and the gourmand fragrance with the More Is More! bottle.
Heartbreak or loss smells like: Dark, stormy weather. Like a lonely, rainy day in the countryside, where you're alone with yourself and your thoughts.
Friendship smells like: It's very French, but it smells like a good meal and good wine while confiding in your friends.
Regret smells like: Bittersweet, because when I think about regret, it has two sides: bitter for the mistakes you've made that you can no longer, and sweet because there's a positive side. Whatever you did, you're now past it, and you won't make that same mistake again.
The worst smell is: A boring one. A very common smell that everyone around you is wearing. A fragrance you've smelled so many times it's almost annoying you, the one you smell so often it's no longer special to you. That's the worst smell for me. As a perfumer, I'm creating fragrances to convey emotions and to help people feel special while wearing them and to create special moments. If a fragrance is boring, it makes me feel bad about the work I've done.
My ideal vacation smells like: Bali. Like coconut water with some frangipani flowers and exotic fruits surrounded by lush vegetation. It's pure nature. I love traveling in Asia because it always smells like time has stopped.
My home smells like: A lot of furniture and secondhand stuff. My home is a bit maximalist, I'd say. I always like to bring back handmade stuff from my travels, and over the years, I've accumulated … a lot. When people come over, they say it's like a cabinet of curiosities. I have a remote in my living room for the lights alone because I have so many lights — like 12 lights — so I have to use a remote so I don't have to stand up each time I need to turn one off. There's a lot, but it adds a very warm and cozy atmosphere to the room.
The last thing I smell before I go to bed: Fresh air. I sleep with the windows open, so it smells like the calm of the city. Paris is a bit crazy during the day, but it's a completely different atmosphere during the night. I also have a balcony with a lot of flowers and plants, which brings me a bit of nature while in the city, and there's a huge park nearby. The smell is a bit earthy, a bit humid, and very green, which I love.
The first thing I smell in the morning: My two cats. I have a British Longhair and a British Shorthair. I don't allow them to sleep in the bedroom, so they are in the living room by themselves all night and the first thing I do in the morning is hug them. I like smelling the musky fur of the cats. They're very warm, like teddy bears but in real life.
A scent or smell that I love that others usually don't: Coriander. I do a lot of cooking with it, and people either love it or hate it; there is no in between with coriander. I like it because it has a very powerful taste, and I like the scent because it's a bit green and it's a little metallic, which is why I think it's so divisive.
I smell like: I don't know, honestly, because you're so used to your own smell, and it's a bit complicated as a perfumer. I'm not used to wearing a specific personal fragrance, sadly. The last fragrance I bought was 12 years ago when I finished school, and that's the sad part of our work; we are the first ones to stop consuming fragrances, because we're working on them every day. But I used to like what's generally referred to as Oriental fragrances because most of the time they're very warm, embracing, and comforting, like they're protecting you. I love when those notes are mixed with orris, which has this sophistication and powderiness to it. It's also one of the most expensive products perfumers can work with.