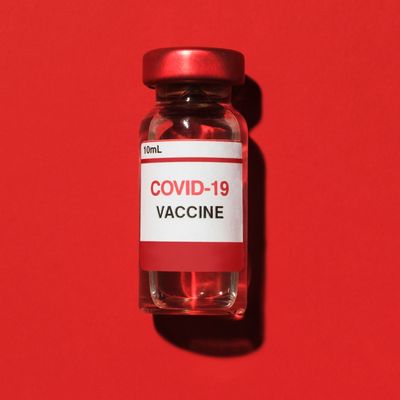 Photo: Getty Images/Tetra images RF
Before the coronavirus was even declared a pandemic, researchers around the world had already begun the frantic race to develop a safe and effective vaccine, our most powerful weapon against a virus. Now, many months later, one of the four U.S. drug companies with a vaccine in late-stage trials has taken a major lead, instilling cautious hope that we may in fact get a COVID-19 vaccine in the near future.
This morning, Pfizer — which has been working on a vaccine alongside German drugmaker BioNTech — announced that its two-dose vaccine was more than 90 percent effective in preventing COVID-19 in volunteers who had not previously contracted the virus, according to an early analysis reported by the New York Times. While the trial is ongoing — the company is waiting for at least 164 people in its 44,000-person trial to develop COVID-19 — Pfizer predicts it will hit that number by the end of the month, at which point the company will request emergency authorization from the Food and Drug Administration. Then, by the end of the year, company executives hope to have enough doses to immunize 15 million to 20 million people in the U.S.
Pfizer's news has largely been met with measured enthusiasm from public-health experts. In an interview with the Times, a Yale immunologist called the 90 percent figure "a spectacular number," and the former chief of the FDA's vaccine division told AP News that the development is "extremely promising." But many experts are simultaneously cautioning against celebrating the development prematurely. As the Times notes, the results were published in a news release, not a peer-reviewed medical journal; the trial is also still ongoing, meaning the vaccine's efficacy rate could drop as it continues. (However, earlier this year, Dr. Anthony Fauci, the country's leading infectious-disease expert, said he would be satisfied with a vaccine with 60 percent efficacy.)
And many questions remain unanswered: How long the vaccine is effective, whether is provides equal protection for young people and the elderly alike, how well the vaccine protects those who previously had COVID-19, and how effective it is against fighting severe cases.
Then, even if Pfizer's vaccine does get approved for market, next comes the hugely difficult challenge of distribution. "It's going to be a while before this has a major impact at the population level," Jesse Goodman, former chief of the FDA's vaccine division, told AP — especially since Pfizer's vaccine must be transported in extremely cold temperatures. In short, we'll be wearing masks and social distancing throughout 2021, a reality that President-elect Joe Biden acknowledged in his statement celebrating Pfizer's announcement.
"Americans will have to rely on masking, distancing, contact tracing, hand washing, and other measures to keep themselves safe well into the next year," Biden wrote. "Today's news is great news, but it doesn't change that fact." (This morning, Biden unveiled the members of his coronavirus task force, which is entirely made up of doctors and public-health experts.)
Meanwhile, three other U.S. vaccines are in late-stage trials, including Moderna, which could release early results by the end of the month. The race continues.