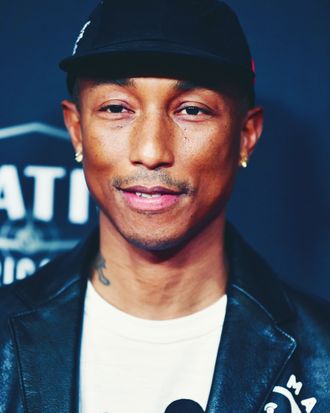 Dewy Pharrell.
Photo: Amy Sussman/FilmMagic
After 20 years of being asked how he gets his skin so good without being a vampire, Pharrell Williams is finally dropping the skin-care routine.
It comes to us in the form of Humanrace, his new clean, vegan, fragrance-free, and all-gender skin-care line for all humans. Developed in collaboration with his longtime dermatologist, Dr. Elena Jones, Humanrace will debut with a trio of products Pharrell has dubbed "The Three-Minute Facial."
The first step is a foaming Rice Powder Cleanser with gentle exfoliating fruit AHAs ($32), followed by a creamy Lotus Enzyme Exfoliator with glycolic acid ($46), and finished off with a cushioning Humidifying Cream with snow-mushroom extract and soothing rice water ($48). All three will also be available in a Routine Pack for $100.
Snow shrooms and such sound fancy, but the routine is designed to be simple and stress-free for your soul's sake. "It's created to take three minutes morning and night," Pharrell said in a release. "Your face is the result of the spirit behind it; it's important to take care of your skin and to also take time for yourself each day."
If you're solely concerned with aging in reverse (like the brand's founder), however, the products are also aligned with the tricks he credits for perpetually looking like a 20-something. "How do I stay so young-looking for a 40-year-old? I wash my face," the artist said in 2014. A few years later, he revealed, "I exfoliate like a madman. When you exfoliate and you drink a lot of water, that does good for you. To me, the key is just exfoliating like a monster. There's a lot of dead skin. All the time. Like a narcissistic madman."
No matter the volume or texture of dead skin you have on your face, Humanrace was designed to be friendly for all skin types — no nuts, seeds, or plastic particles that can cause microtrears, nor any of the 1,300 ingredients banned in Europe. The line is friendly for the planet, too. All products come in post-consumer recycle, and refillable packing in an energizing green (Earth's favorite color).
If you'd like to pregame Thanksgiving by drinking from the fountain of youth, head to humanrace.com where the line will be launching on November 25.