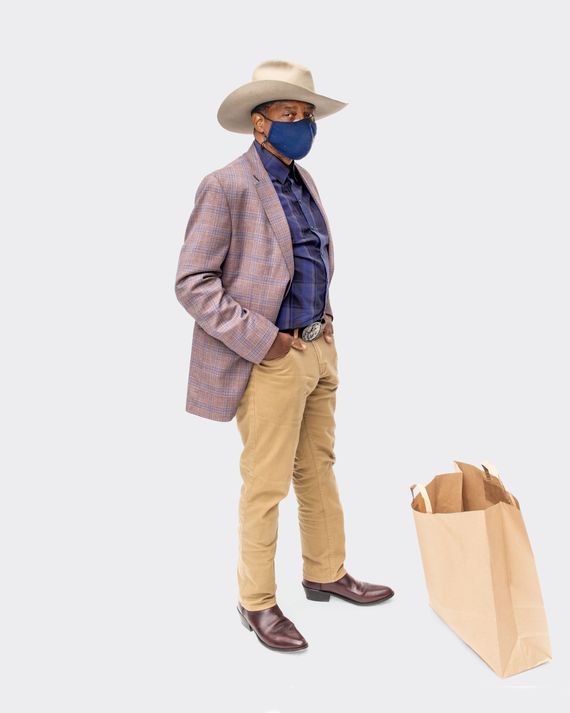 Daniel Goldsmith.
Photo: Rochelle Brock
Daniel Goldsmith (pictured above), Actor, Harlem.
Are you looking for anything in particular?
I've seen a lot of nice vintage saddles. But I reminded myself you're supposed to have the horse first. It could be a nice accessory. That has occurred to me quite a few times. I could wear it on my back. I mean, my neighbors already see me in the playground practicing my roping. Which is exciting to them because how many people practice lassoing in NYC?
Wait, are you a cowboy?
No, but I've met lots of cowboys on sets in the Midwest, and we became buddies. I liked how they dressed. Back in New York, I started throwing on boots and jeans in the morning more often than slacks. Bought a rope, hung it on my wall. Lately, I've been watching YouTube videos of lasso competitions because I can't go back to hanging out with my cowboy friends and have my roping skills be rusty.
So what's that?
A Texas-longhorn cattle head. I got it from a guy in Rhinebeck. We were going through his memorabilia, and he was like, "Want to buy this bull head?" I've been trying to sell it here for five weeks. I can imagine it in a restaurant. Or a man cave.
Are you a collector of anything in particular?
Yes. They're called lady-head vases. They're these vintage figurines with holes in their heads. Some people think they're a little creepy.
Did you buy anything?
Oh yes. I scored! There's this one guy from the south of France, and he has all these amazing cream-colored linen pants worn by salt miners in the early 1900s. If you see something and your heart goes pitter-patter, you have to buy it. That's how I came to own over 300 vintage hats.
How long have you been coming here?
You know, I went for 40 years but then I stopped going because I didn't have room in my apartment. And then, for a time, it got lousy. It went so downhill. Then someone told me a month and a half ago that it had reopened. So I decided I'd come with fresh eyes.
*This article appears in the November 23, 2020, issue of New York Magazine. Subscribe Now!