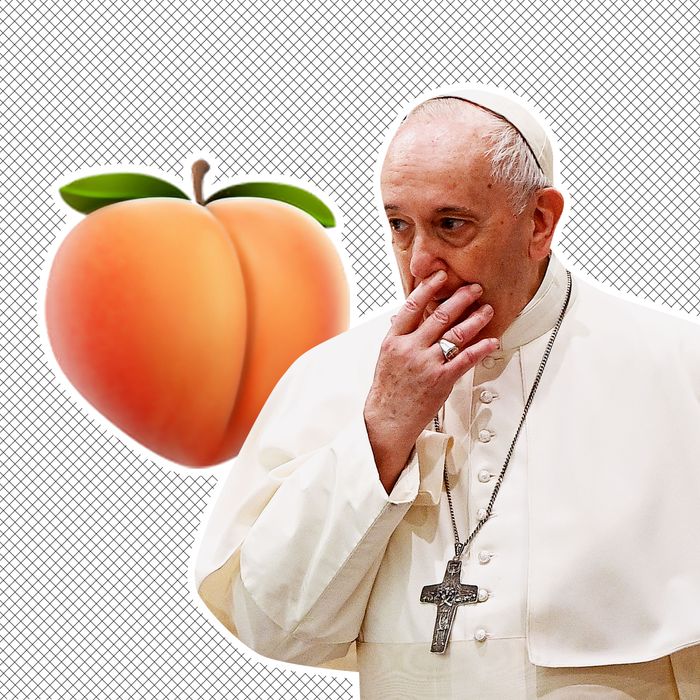 Photo-Illustration: by The Cut; Photos: Getty Images
An investigation is underway at the Vatican this week. The culprit? Unknown. Their crime? Saying (presumably) "A-OOO-ga! Mamma mia. In nomine Patris, et Fili, et Booty Sancti, amen," and then smashing like on a horny Instagram picture of a Brazilian model dressed in a skimpy little schoolgirl outfit.
The holy scandal started last Friday, when eagle-eyed followers of the model Natalia Garibotto noticed that one of her posts from October 6 — a picture of her in front of a locker, butt out, wearing a teeny-tiny plaid skirt, thigh-high stockings, and a crop top — had been liked by the pope's official Instagram account.
It's unclear when exactly Francis's account liked Garibotto's post, but by Saturday, November 14, the picture had been un-liked.
Are we to believe that Pope Francis himself, bored between meetings, started scrolling through Garibotto's account and, upon seeing the schoolgirl pic, did the sign of the cross and double tapped? Probably not. As a Vatican spokesperson told NBC News, a team of people run the pope's social-media accounts. And what's more, the Vatican claims that the horny like came from an "outside source," and they are currently working with Instagram to get to the bottom (sorry) of all of this.
"We are studying what happened with the help of the competent office at Instagram," said Matteo Bruni, director of the Vatican press office.
Meanwhile, Garibotto and her management team seem delighted by the incident. "At least I'm going to heaven," Garibotto tweeted on November 13.