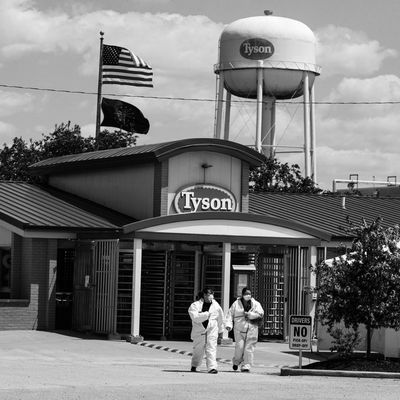 Photo: Michael Conroy/AP/Shutterstock
Earlier this year, the family of a man named Isidro Fernandez filed a wrongful death lawsuit against a Tyson pork plant in Waterloo, Iowa, where he'd worked, alleging he'd been exposed to COVID-19 on the job, and that management had displayed a "willful and wanton disregard for workplace safety." An amendment to that lawsuit, filed recently, contains horrifying new claims, including one that is almost too cruel to believe: As managers ordered sick employees to report for work, downplaying the seriousness of the pandemic, they created a cash-buy-in, winner-take-all betting pool to wager how many workers would test positive for the virus.
The family of Isidro Fernandez says that plant manager Tom Hart organized the betting pool in mid-April, at around the same time county sheriff Tony Thompson visited the plant and reported the conditions there "shook [him] to the core."
Thompson had seen plant workers processing pork "elbow to elbow" with no formal PPE — some were wearing painters' masks or even sleep masks around their necks. When health officials asked the plant to shut down on April 14 as the coronavirus raged, the company resisted. It eventually closed, but reopened after only a few days when Donald Trump signed an executive order declaring America's meat supply "critical infrastructure." More than 1,000 workers, over a third of the Waterloo plant's workforce, have since contracted COVID-19, and five have died. Fernandez passed away on April 26.
Among other new information in the amended lawsuit are claims that John Casey, an upper-level manager at the plant, directly told sick employees to ignore symptoms. He once allegedly intercepted a sick supervisor who was on his way to be tested for the virus, telling him, "We all have symptoms — you have a job to do." The suit also claims that an employee vomited on the production line, but managers allowed the man to continue working. He returned to work the next day. The lawsuit suit alleges that workers were incentivized to work while sick with $500 "thank you bonuses," which the company paid out to employees who turned up for every scheduled shift for three months. As the pandemic worsened, the suit claims, managers avoided the factory floor, where employees were falling ill, and delegated to supervisors with less experience, who let drivers and other contract workers into the plant without checking their temperatures.
In a statement to Iowa Capital Dispatch, Tyson said it was "saddened by the loss of any Tyson team member and sympathize with their families." The company said it would not comment on specific allegations, but claimed that its "top priority is the health and safety of our workers," adding that they've "implemented a host of protective measures at Waterloo and our other facilities that meet or exceed CDC and OSHA guidance for preventing COCVID-19."
However, while meat and poultry plants including the Tyson location in Waterloo have added safety measures since the outbreak, these plants remain COVID-19 hotspots around the country. A June report by the Midwest Center for Investigative Reporting found a spike to 20,400 infections across 216 plants in 33 states. A Tyson worker at a poultry plant told the New York Times, "There's absolutely no way that we can social distance at these plants" at the rate that the factories operate, and begged the company to slow down. "We're feeding America," he said, "but we're sacrificing ourselves."