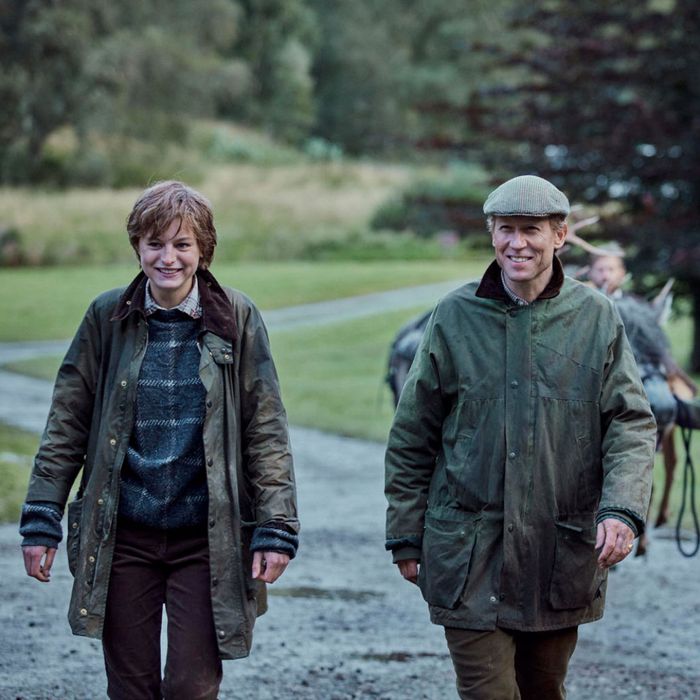 So many waxed jackets.
Photo: Netflix
When I was a teen my dad got me a Barbour jacket, and I was horrified. What was I going to do in a forest-green waxed coat? Fish? Shoot deer? (All things that Barbour jackets are actually good for.) It was no good for the mall or the movies. It wound up forlorn, in the corner of my closet.
Of course, I wish I owned the jacket now. Barbour is an old British brand, best known for its waxed cotton coats and other waterproof protective gear. Its jackets are staples of British countrywear. They're also famously worn by Daniel Craig as James Bond, race-car legend Steve McQueen, and glamorous dogs. In recent years the brand has collaborated with the likes of Alexa Chung, Laura Ashley, and even Supreme.
On top of that, Barbour jackets are beloved by the royal family, which I was reminded of while watching season four of The Crown this weekend. The Cut's fashion writer, Emilia Petrarca, told me that the entire season is basically "Barbour-jacket porn," which is accurate. The first two episodes contain a dozen Barbour jackets — quilted, paneled, collared, buttoned, zippered. It is, indeed, Barbour-jacket porn.
Just look at Josh O'Connor as Prince Charles wearing a Barbour jacket:
Or this official-seeming person, delivering bad news in a Barbour jacket:
Or Olivia Colman as Queen Elizabeth, receiving bad news in her Barbour jacket:
Here's the whole crew judging Margaret Thatcher for not having a Barbour jacket:
Oh, hey, it's Princess Anne looking somehow glamorous in her — you guessed it — Barbour jacket:
And here's a Barbour hanging out with a newsboy cap:
This isn't unusual for The Crown — Barbour jackets made an appearance in many of its previous seasons, courtesy of the long, dreary hunting scenes and dead-animal metaphors that are typical of the show. But if you watch this season with an eye toward fashion, you start to realize the waxed Barbour jacket is practically its own character. And while I'm still neither fishing nor shooting deer on a regular basis, I think it's about time I picked one up.
Three Barbour Jackets to Make You Look Like a Muddy British Princess
A classic waxed jacket similar to the one Princess Di is wearing in the photo at the top of the page.
A handsome quilted option for anyone who doesn't like green.
Available in size 4–14.
This will keep you warm while you're out riding with the queen.
Available in size 1X–3X.