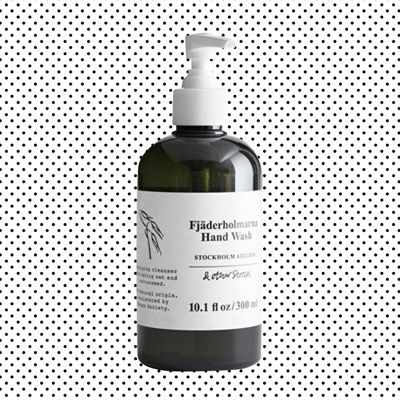 I like to smell my hands. Yes, kind of weird, but they smell extra-good since I started putting & Other Stories new hand wash by the sink. An under-the-radar discovery with a better scent than any soap you'll find at a drugstore, it is Byredo without the Byredo price tag. (I mean that quite literally, as Byredo's creator Ben Gorham was a consultant for the scents).
I particularly like the Fjäderholmarna fragrance. The name refers to a small set of islands outside of Stockholm, known for their cuteness and forest walks. The hand wash smells like verbena, a lemony green scent that doesn't make me think of Mr. Clean but does make me think of leaning into a lemon tree to pick one straight off a branch. I'm never done that before, but I've seen people in my Instagram feed brag about doing stuff like that in places like Capri.
The hand wash is vegan and comes in a nice glass bottle. You need just a little bit to create some nice, fluffy hand lather, and it doesn't leave my hands dry and cracked even though I'm now washing them 15 times a day. Sometimes when I'm typing, I can even catch a whiff of my hands as they fly over a keyboard (to quickly Google things like "Who makes Harry Styles's rainbow sherbet sweatpants?"). It might be strange, but I'll take little weird joys when I can.
Every product is independently selected by our editors. Things you buy through our links may earn us a commission.