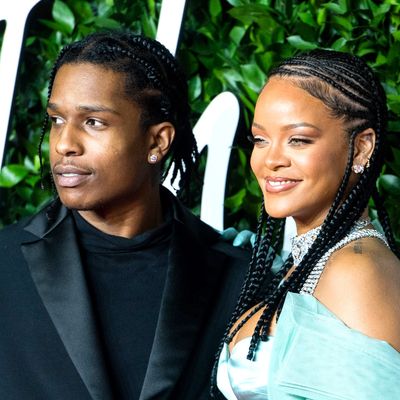 ¯\_(ツ)_/¯
Photo: Samir Hussein/Samir HusseinWireImage
All year, Rihanna's public has whispered about a possible dating situation developing between her and a flirty pal, A$AP Rocky. The rumors began percolating basically as soon as reports of a breakup between Rihanna and her billionaire boyfriend surfaced in mid-January. And now, without providing any other details, an unnamed source tells People that the pair are for sure together. Hmm!
It bears noting that, when a report by the U.K. Sun kicked off shipping efforts earlier this year, Rihanna's camp flatly denied the story. The Sun's informant said that Rihanna and A$AP Rocky had "shared a hotel room" during a visit to New York, but that "Rihanna [was] reluctant to put a label on it … so soon after Hassan [Jameel]," the aforementioned ex. Nonetheless, this individual added, "They're really enjoying each other's company and taking things easy as it's still early days," and "she's a newly single girl having fun." But a source allegedly close to Rihanna quickly countered with a hard no, insisting: "Rihanna is single. She just got out of a long intense relationship." While she was "hanging out with A$AP Rocky," they continued, she was "not dating him."
For his part, the rapper has previously denied allegations of romantic feelings between the two, claiming: "I don't even look at her like that. She's sexy, but I'm good."
On the one hand, the artists have been friends for a long time, with A$AP Rocky most recently appearing in Rihanna's Fenty Skin campaign. They have also toured together, collaborated together, and sparked hookup rumors together as far back as 2013. Apparently they were seen out together in a group over the weekend. So you never know! Maybe they are just friends; maybe they are sex friends; maybe they are an official item. I couldn't say. But I would be willing to bet that Drake is on the case.