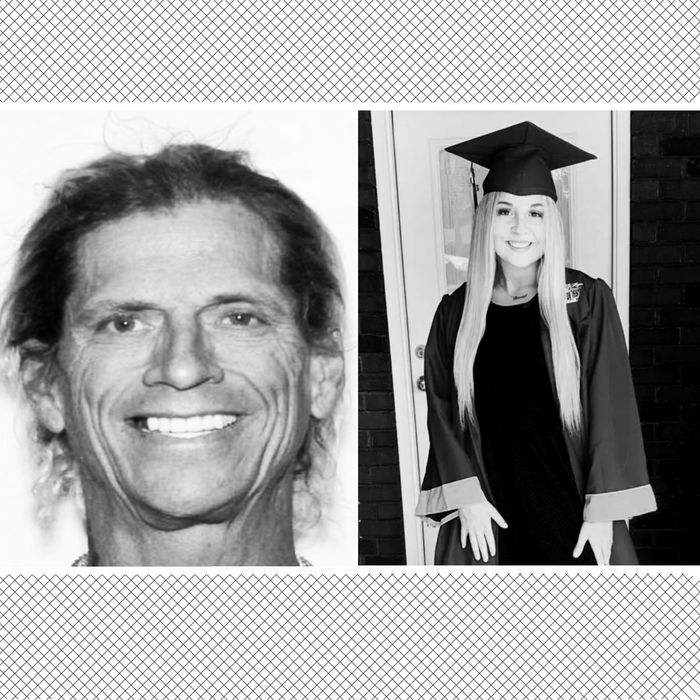 Michael Hutto and Lora Grace Duncan.
Photo: Riviera Beach Police Department, Facebook
Michael Hutto, 54, one of the founders of the outdoor-apparel brand Salt Life, is in jail after his 18-year-old girlfriend, Lora Grace Duncan, was found dead in a luxury Florida hotel room at the end of October.
According to local NBC News affiliate WPTV, Duncan's father requested a welfare check on his daughter on October 29, after not hearing from her for several days. Her father used Duncan's cell phone to track her down to Hilton Singer Island Oceanfront Resort, near West Palm Beach, Florida. There, police found the teenager dead on the floor, with a gunshot wound to the stomach.
Duncan's father told police that his daughter was romantically involved with Hutto, and claimed the former businessman had been giving her drugs to keep her sedated. Hutto's wallet and ID cards were in the room when police found Duncan, and Hutto himself was rushed to a hospital room the next day after investigators found him illegally parked at a St. Augustine gas station. Per the affidavit, Hutto was "twitching, making delusional comments and crying while his eyes were rolling into the back of his head," and when detectives questioned him at the hospital, Hutto said, "Oh my God, I think I hurt my Gracie."
Later, Hutto reportedly told police that the shooting was an accident. He and Duncan had been going to visit friends in the Florida Keys, and decided to stop on Singer Island. The two hung out at the beach before going back to the Hilton and "playing inside of the hotel room as if they were shooting with their finger and a gun." Duncan, Hutto told police, had been sitting on the bathroom counter when he aimed a gun at her and fired, shooting her in the stomach. Hutto then fled the room in a panic.
In 2003, Hutto and friends founded Salt Life. The clothing brand was aimed at boaters, surfers, fishermen, anyone who spent a lot of time on the ocean. Hutto is credited with coming up with the name, but in a statement on Facebook, the company explained that the co-founders had sold the business to its new owners in 2013, and had not been associated with the brand since then. "Salt Life sends their utmost sympathies to the family and friends of the deceased," the statement read.
Hutto is set to appear before a Palm Beach County judge on Monday morning.