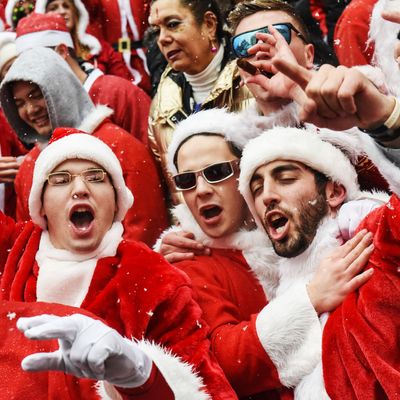 Bludgeon me.
Photo: Stephanie Keith/Getty Images
At the end of a relentless year that has given us very little to celebrate, here is a victory I think we will all appreciate: New York City SantaCon is, allegedly, not happening — at least not in its formal capacity. In an unprecedented show of deference to public health and safety, the Santas-in-Chief have cancelled their annual convention because, in their own words, "All of the reindeer got the 'rona so, the elves have advised Santa to hold off on the in-person merriment." As a result: "There is no official SantaCon in 2020."
Ostensibly this is wonderful news, if also the only viable route open to SantaCon: In New York City, as in so many other parts of the country, new coronavirus infections have been rising over the past few weeks, triggering bans on gatherings (indoor and outdoor) of more than ten people. Bars must also close by 10 p.m., although I'm not sure how many SantaCon participants make it that late anyway.
More than anything, the prospective crowds pose a problem here: The thousands upon thousands of red-suited bros who reliably swarm Manhattan on the second Saturday of December every year. Starting at like 10 a.m., the Santas begin staggering from bar to bar, getting progressively more blitzed as the day goes on. The havoc they wreak cannot be overstated: Despite provisos against "fucking with" kids, police, bar staff, and the city as a whole, the Santas brawl. ("I even saw a stabbing last year at two o'clock in the daytime," a bar owner told Grub Street in 2013.) They let their fluids flow freely through the streets. Whether they mean to or not, they do seem to scare children. One year, they even did a robbery.
The city's attempts to rein in this grim parade — banning alcohol aboard public transit, for example — have historically failed to make much of a difference. Every year, SantaCon is a terror. Although the organizers officially condemn very common SantaCon behaviors such as public fighting and vomiting blindly on local businesses, these Santas simply won't be tamed!
And with that in mind, here's hoping the Clauses don't go rogue and take it upon themselves to do an unofficial SantaCon instead. I am sorry to barf all over your good time even by raising the possibility, but then, what else is this nightmare event for?