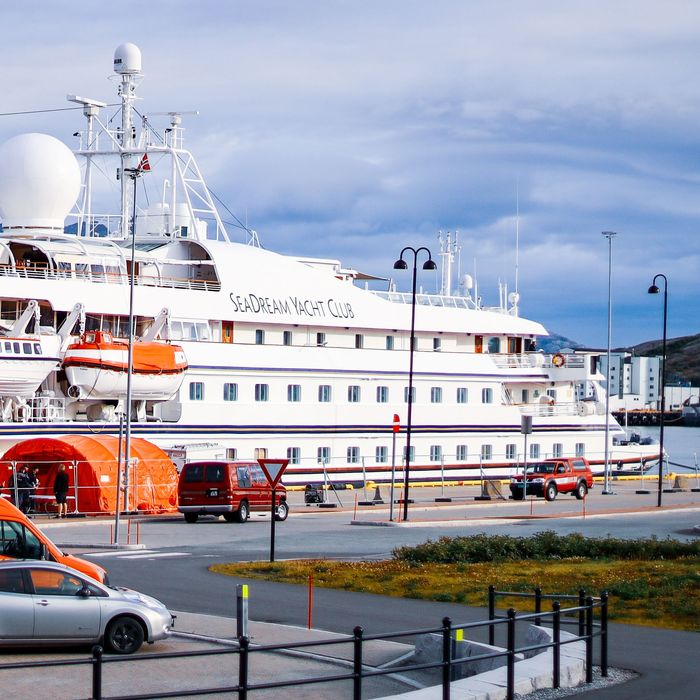 Uh oh.
Photo: NTB SCANPIX/AFP via Getty Images
I do not think this will come as any surprise to you, given the strong trends in cruise news that have emerged over these past 12 months, but let's give it a try: The first passenger vessel to resume sailing in the Caribbean during our pandemic era just had a coronavirus scare. According to reports from people traveling on the SeaDream Yacht Club's SeaDream 1, five people on board have now come down with COVID-19.
How do you feel? Shocked? Astonished? I didn't think so. But now that you're here: Gene Sloan of The Points Guy reports that, on Wednesday, captain Torbjorn Lund announced that a passenger had tested positive for the coronavirus on a "preliminary basis." Lund sent all 53 passengers and nonessential members of the 66-person crew to their cabins to isolate, Sloan says, adding that it's not as if precautions weren't taken to prevent precisely this scenario. According to Sloan:
SeaDream had required passengers to run a gauntlet of COVID-19 testing before boarding SeaDream 1. The idea was to create a COVID-free "bubble" on the ship where the odds that even a single passenger is carrying the new coronavirus on board was extremely low.




Every SeaDream 1 passenger had to test negative for COVID-19 several days in advance of boarding and again on the day of boarding. A third test for all passengers was scheduled to take place [Wednesday].




SeaDream also has required social distancing on board the ship and, since Monday evening, mask-wearing.
Apparently, though, masks were not mandatory during the first two days of the voyage. As of yesterday, passengers and members of the crew were taking rapid tests, and Lund planned to return the ship (which SeaDream would argue is really more of a large yacht) to Barbados, its point of departure. But on Thursday evening, the Daily Beast confirmed that the number of diagnoses has now risen to five, after the initial patient's family members tested positive.
"It's not a great development for the cruise industry," Sloan told CNN in an email.
Not for the cruise industry and not for public health, as the discovery of coronavirus inside a closed environment has frequently proved to be disastrous. Cruise ships have made this extremely clear. Early on in the pandemic, harrowing outbreaks stranded vessels around the world, creating a situation so extreme that Congress launched an investigation.
Accordingly, the CDC issued a "no sail" order in March, which it has repeatedly extended, to the chagrin of cruise lines whose profits are tanking. On October 30, though, the agency came out with a stringent set of steps these companies can take in order to resume operations at U.S. ports: a Framework for Conditional Sailing Order for Cruise Ships, which applies to vessels in domestic waters carrying 250 people or more. These protocols did not apply to SeaDream 1, which launched from Barbados and was anchored off Union Island in the Grenadines at the time of Lund's announcement.
Outside the U.S., some companies started cruising again months ago, with predictable results. Hurtigruten, the first line to send out ships over the summer, quickly found itself scrambling to contain the virus as dozens of people fell ill on a Svalbard-bound voyage. How many times do we need reminding: You cruise, you lose!!