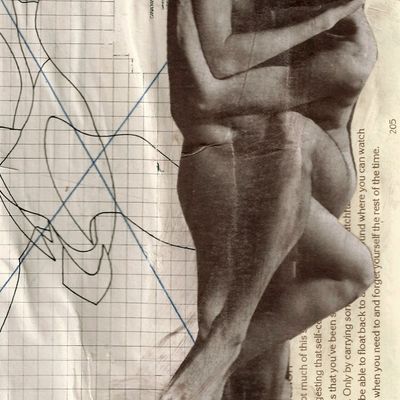 Photo-Illustration: James Gallagher
This week, a working mom tries to help her depressed ex-husband while making time for her new guy (who hasn't left his wife yet): 45, in a relationship, Long Island.
DAY ONE
8:15 a.m. I rush my 18-year-old daughter out the door. We have to be at work in a half-hour. We both work for a wealthy family a few towns away. She babysits their kids and I clean the house. They are actually the nicest, most generous family so it's a good situation for all of us.
9 a.m. I try to ask my daughter how she's feeling about things. Her dad and I just got divorced. It was my decision; he didn't want to. It's been very sad to see him struggle, but it was the right choice for me. There was nothing dramatic to pin things on, I just wanted something different. My ex was very unmotivated, and I would say a functional alcoholic. I'm still young, 45, and would like to be with someone more interesting, motivated, and challenging. I think I've already found him, actually. The only problem is that he is still married …
Anyway, my daughter doesn't want to talk about it. It's early. We haven't even pulled into our Starbucks drive-thru. I understand.
3 p.m. My daughter and I love working side by side. Our jobs are both relaxing in a weird way. This couple works from their guest house (they own a business together) and they are totally hands-off. They're gracious and grateful for all we do, and have never been so much as a day late paying us. My daughter is done with high school and taking time off before college, so this keeps her busy and financially independent.
9 p.m. I call Tyler. We always chat at this time because his wife usually isn't home yet (she owns a restaurant) and my life is kind of organized and put away by now. Tyler and his wife don't have kids. Their marriage hasn't been good for years. They barely communicate. The only reason he hasn't left her is because it will be a mess financially. He co-owns the restaurant with her. They own their home. They own another home. He's dreading the drama. We met about a year ago when I was contemplating leaving my ex. I don't want to say Tyler was the reason I finally went for it, but … um, he was probably the reason I finally went for it. We met at a friend's Christmas party, where we were both alone. We texted and flirted after that, a lot. We started sleeping together about a week later. Sex with Tyler is amazing. He dominates me in a way that makes me feel beautiful and sexy and desirable. Since COVID, finding time to be together has been harder but I'd say every few weeks, we find a way. It's always at my place. My daughter thinks he's just a friend but I have a feeling she knows more, and that's okay with me. She's old enough to understand some unspoken things.
DAY TWO
9 a.m. We're at work. Tyler works as a contractor during the day, and the couple we're working for asked if I knew a contractor recently, so I think he's stopping by today for a consult. This should be fun!
3 p.m. I see Tyler's truck pull up. I want to keep it professional so I let him go right to the guest house to talk to the couple. I want to run out and hug him (and smell him and kiss him) but of course I don't.
4 p.m. On his way back to the truck, Tyler pivots and comes into the house to say a quick hello. He looks gorgeous to me, even in his mask. He winks and says it went well. Again, I keep it professional and tell him to have a great day. Our eyes are both saying, "I want to fuck your brains out right now!" but that's where it will have to stop.
DAY THREE
11 a.m. I get a few pitiful texts from my ex. He is trying to prove to me that he can be a better partner. He says he hasn't had a drink in three days, he has a job interview all set up, etc. It's hard to read because he just doesn't get it. We're over. I will never keep him from his daughter, and I will always love him and be his friend. But our marriage is over. He has to start comprehending that. I suggest he get some therapy but he doesn't have health insurance at the moment so we both know he can't.
6 p.m. My daughter is going to my ex's for dinner and staying the night, so I text Tyler to come over.
7 p.m. He's here, in my arms. I love kissing him. I love being in his embrace. Our connection is sexual and emotional. It's perfect. I will never pressure him to leave his wife because I don't personally care about paperwork and/or whether he's officially divorced. I do think he needs to confront her about the fact that the relationship is over though. It needs to be said and done. He agrees. We work on the language he's going to use. I trust that he will talk to her when the time is right. I'm not going to ride him on the topic. I spent years with a man who I nagged about everything. Tyler will either do the right thing eventually or he won't, and I will likely become very turned off by him if he doesn't.
8 p.m. We fuck on my couch and finish in my bed. I always have multiple orgasms with Tyler. Pretty much the minute he touches me, I'm trying not to come. He leaves shortly after the sex is done. I feel like his head is in a weird place after so much talking about officially leaving his wife.
DAY FOUR
1 p.m. The woman I work for says she loved Tyler and would like to hire him. She mentioned how handsome he is and asks how I know him. I really like her, and she's super-cool, but it's not appropriate to tell her the whole story. I just say he's a friend of a friend, and great at his job.
3 p.m. Tyler calls to say he got hired and wants to take me to dinner to celebrate tomorrow. I try to think about which restaurants feel COVID-safe right now and come up with a Greek restaurant that has cozy outdoor seating and good heat lamps. We decide on tomorrow night. We haven't been out publicly too much, and the restaurant world is small … What if the workers or owners know his wife? I take his carefreeness as a sign of him crossing over and telling her the truth soon.
7 p.m. My daughter and I order in a pizza and watch some of The Crown. As long as she knows that her father and I love her unconditionally, and that we are still a family, even if it's a different kind of family now, I think she'll be okay. It's a nice, quiet night.
DAY FIVE
12 p.m. I'm working fast because I'm getting a haircut and color before seeing Tyler tonight. It's my friend's place and she's still cutting outside even though it's getting colder out. A good-hair night is essential today.
5 p.m. I tell my friend all about the Tyler stuff. She knows his wife from high school and says she wouldn't be surprised if the wife is sleeping around. (I asked Tyler this once, and he said he had no idea). I start to feel uncomfortable, wondering what my friend is thinking of me. Nothing has really changed but my anxiety is just escalating.
7 p.m. I show up at dinner looking good but feeling unsettled. We order wine and I'm unusually curt with him. I tell him our relationship is starting to feel a little bit fucked up. What's the deal with his marriage? When is it going to end? What are the things I can depend and rely on right now? I don't need much from him but I don't need stress either. Tyler has all the right answers and he handles my tension with care and understanding. The wine flows and I start to relax. The night ends up being nice. I got derailed for a moment there but we're fine now.
9 p.m. Some serious making out in my car, since it's not a good time to go back to my house for sex (my daughter is home and waiting for me to watch more of The Crown). I take his hand and put them in my pants. I tell him to finger me until I come; he does. I push him away and jokingly say, "See ya never." Then I smile and drive off.
DAY SIX
1 p.m. My ex is coming over today. I told him he could because he's sounded so sad and lonely. My daughter and I work on making his favorite guacamole and taco "stations" before he comes. I'm hurting that he's hurting but I'm already in such a different place. We were high-school sweethearts. We had our daughter young. Our relationship had a time and a place and it's over. I need to figure out how to give him love without giving him any hope for a future … it's hard.
4 p.m. My ex is here and while he is sober, he's a mess. He's weepy and depressed. I don't like my daughter to see it but she's not a child anymore. I hope she can handle it. At the moment she's basically acting like his mother, trying to take care of him and cheer him up. It's heartbreaking.
6 p.m. The minute he leaves, I open a bottle of wine. My daughter is in her room talking to her friends online. I sit at my kitchen table and drink wine, trying to decompress.
7 p.m. I think about calling Tyler but it feels disloyal to my ex. He's confided in me with everything he's struggling with, and for me to "gossip" about it with my new boyfriend who is richer and hotter would just be offensive.
DAY SEVEN
10 a.m. My daughter and I go to church online. We aren't very religious but we like church. We've always gone on Sundays and it's just one of our rituals. Zoom church is pretty uninspiring though.
2 p.m. I venture out to do some groceries and other errands. Thanksgiving will just be me, my daughter, and my ex this year. I can't leave him alone on his favorite holiday. He doesn't deserve that level of punishment. So I buy some ingredients and decorations and head home to get organized for the next few days. I start some baking for the holidays. Good thing I'm a Virgo.
3:30 p.m. Tyler has called and texted me a few times today but I haven't had time to write him back. I'm not, like, totally into him today. It's hard to explain. Maybe the newness has worn off. I feel like I have other priorities and my relationship with him is not on the top. I will never take my ex back but I would like to help him find some balance in his new life. If nothing else, I owe that to my daughter. Tyler has to figure his shit out at home. I do see a future with us but I'm already tired of the purgatory. He needs to get his love life together.
9 p.m. I finally call Tyler back. I tell him that I still want to see him, that nothing has changed, but he needs to figure out his relationship with his wife before I give him much more of myself. And then I tell him I have to go — my pumpkin chocolate-chip cookies are ready.
Want to submit a sex diary? Email sexdiaries@nymag.com and tell us a little about yourself (and read our submission terms here.)