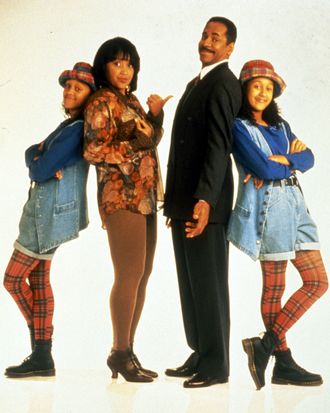 Photo: De Passe Ent/Paramount Tv/Abc Tv/Kobal/Shutterstock
As a kid, I would wake up early for school and watch reruns of the classic '90s sitcom Sister, Sister. My eyes would be glued to the television until my mom told me to get my butt in the car. I'd go to school and count down the hours until I could go home and inevitably watch more Sister, Sister. With ABC Family playing it in the morning and the Disney Channel playing it in the evening, my viewing schedule was set. Conveniently for adult me, it is now streaming on Netflix.
Now, it's hard for me to start a brand-new show when I'm stressed or anxious. Day-to-day, my brain is always on. I just need a show that is comforting and familiar and lets me shut off my brain for a few hours.
You are likely vaguely aware of the plot of the show, which ran from 1994 to 1999. It chronicles the lives of two Black twin sisters — Tia Landry (Tia Mowry) and Tamera Campbell (Tamera Mowry) — who were adopted separately at birth but reconnect 14 years later when they bump into each other at a mall in Detroit. Studious Tia and her eccentric mom, Lisa (Jackeé Harry), move in with Tamera and her prudent dad, Ray (Tim Reid), a pitch-perfect sitcom setup!
In each and every episode, personalities clash, resulting in constant overly dramatic fights and even more dramatic make-up scenes. The predictability of this show is so calming. Every episode, I can expect a family fight, some boy drama, and a twin switch-up. Tia and Tamera will also probably yell "Go home, Roger" to their pest of a neighbor at least three times during the episode. And maybe I'll get a bit of outfit inspiration, since '90s style is here to stay. But I always know that by the end of the blissful 22-minute episode, everything will be resolved and all will be well for the Campbell-Landry clan.
Watching Sister, Sister now reminds me of my childhood, of brown-sugar Pop-Tarts and school uniforms. Honestly, it is the security blanket of a show we all need right now. During a time of so much change, it's nice to know I can count on this show to be exactly the same.