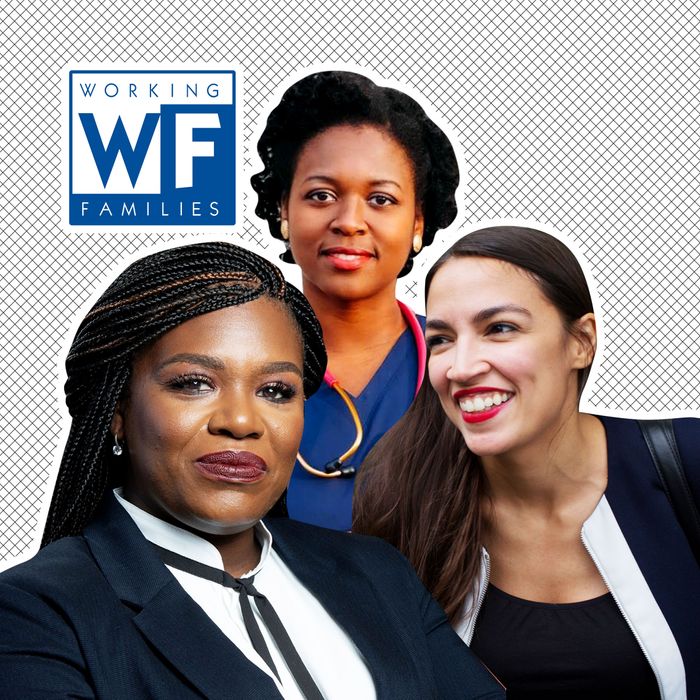 Photo: Getty Images, Working Families Party, Cori Bush for Congress, Phara for Assembly
Whether you approached Election Day with willful optimism or complete despair, it is understandable if you woke up today feeling demoralized. While many key states are still tallying mail-in ballots, and we likely won't know the official count for days, at the earliest, it is both discouraging and infuriating that the race between Joe Biden and Donald Trump is this tight. And, even if Biden does win, it's looking highly unlikely that Democrats will flip the Senate, which would leave Kentucky senator Mitch McConnell in charge of the chamber — and a President Biden hamstrung.
But amid the disappointments and the looming sense of dread, there were more than a handful of historic progressive wins to come out of Election Night. Here, a few actually good things to celebrate.
The Squad won reelection.
The four progressive women of color elected to the House of Representatives in 2018, colloquially known as the Squad, are here to stay: Alexandria Ocasio-Cortez of New York, Ayanna Pressley of Massachusetts, Rashida Tlaib of Michigan, and Ilhan Omar of Minnesota all handily won their respective races last night and will thereby continue their concerted effort to push the Democratic Party to adopt progressive policies such as the Green New Deal and Medicare for All. "Our sisterhood is resilient," Omar tweeted after all races had been called.
Socialists won big in New York.
Last night, New York reaffirmed its commitment to progressive values. Four candidates endorsed by the Democratic Socialists of America — Zohran Kwame Mamdani, Phara Souffrant Forrest, Jabari Brisport, and Marcela Mitaynes — were all elected to the New York State Legislature. In addition, the progressive Working Families Party, which was under threat, surpassed a recently implemented threshold to retain an automatic line on New York ballots.
Black Lives Matter activist Cori Bush is going to Washington.
The Squad is growing. Cori Bush, the Black Lives Matter activist who defeated the powerful incumbent William Lacy Clay in August, has won a House seat in Missouri, becoming the first Black woman to represent the state in Congress. Backed by grassroots groups like Justice Democrats, which burst on the scene in 2018 after helping Alexandria Ocasio-Cortez beat Joseph Crowley, Bush ran on a robust progressive platform: Medicare for All, a Green New Deal, abolishing ICE, and criminal-justice reform.
"As the first Black woman, and also the first nurse and single mother, to have the honor to represent Missouri in the United States Congress, let me say this: To the Black women, the Black girls, the nurses, the essential workers, the single mothers, this is our moment," she delivered in a speech last night after she was officially declared victorious.
Two openly gay Black men were elected to Congress.
Congress is getting its first openly gay Black members: Ritchie Torres, a Democratic New York City councilman who will represent the 15th Congressional District, which covers parts of the West Bronx and South Bronx, and lawyer Mondaire Jones, who will represent Rockland and Westchester Counties in New York's 17th District. (Torres identifies as Afro-Latino.) After both men put forward progressive platforms and emerged victorious from their respective primaries over the summer, they were predicted to win their congressional seats; now, as Torres wrote in a statement last night, "we made history."
"It is the honor of a lifetime to represent the essential borough, the Bronx," Torres continued. Jones is similarly grateful: "Growing up, I never imagined someone like me could run for Congress, let alone get elected," he wrote in his own statement. "To grow up poor, Black, and gay is to not see yourself anywhere. Now, I am honored to have the opportunity of a lifetime."
It was a historic night for drug policy.
An unlikely winner last night: drugs. In six states and the District of Columbia, voters approved ballot measures decriminalizing some drug possession and use. New Jersey, Arizona, South Dakota, and Montana legalized recreational marijuana use; Mississippi legalized cannabis in the treatment of nearly two dozen serious medical conditions; and Washington, D.C., decriminalized psilocybin, better known as magic mushrooms or shrooms.
The most sweeping drug-related measures came out of Oregon, which not only legalized psilocybin for people 21 and older but also decriminalized the possession of small amounts of all drugs and will downgrade drug charges. The measure is designed to take the criminal-justice system out of the approach for drugs and replace it with a public-health one. (The measure also calls for the state's marijuana sales tax to be used to help fund drug-addiction treatment.)
Parolees now have the right to vote in California.
In a huge win for voting rights, California voters have approved Proposition 17, reenfranchising the state's approximately 50,000 parolees, the Los Angeles Times reports. "Prop. 17 gives Californians the chance to right a wrong and restore voting rights for a marginalized community and people of color," Assemblyman Kevin McCarty, who authored the measure, told the Times. "This is good for democracy and good for public safety."
We will soon have our first trans state senator.
In another anticipated but nevertheless exciting win, LGBTQ activist and former White House intern Sarah McBride defeated her Republican opponent by a wide margin in Delaware's First State Senate District. Once sworn in, she will become the first openly transgender state senator in U.S. history as well as the country's highest-ranking transgender official.
"I hope tonight shows an LGBTQ kid that our democracy is big enough for them, too," McBride tweeted after the election was called. "As Delaware continues to face the COVID crisis, it's time to get to work to invest in the policies that will make a difference for working families."
Florida raised its minimum wage to $15 an hour.
While Trump won Florida, at least one progressive win came out of the Sunshine State: More than 60 percent of voters approved a ballot initiative to gradually raise the minimum wage to $15 an hour, making it the eighth state to implement a $15 pay floor. Per the measure, the state's current minimum wage, which is $8.56, will increase to $10 next year; then, in each ensuing year, the pay floor will rise by $1 until it hits $15 in 2026. Then, starting in September 2027, the pay floor will be adjusted annually for inflation.
Portland is getting universal preschool.
Multnomah County in Oregon, which includes the city of Portland, has approved a ballot measure called Preschool for All, which will provide tuition-free preschool to all 3- and 4-year-olds and better wages for preschool teachers. (Nearly 65 percent of people voted in favor.) And how how exactly does the county plan to fund this program? By placing a tax on high-income residents, starting with individuals who make over $125,000 and couples who bring in over $200,000. "Together, we've taken a very big step towards redistributing the wealth in our county, and putting community needs ahead of the interests of the 1%," the coalition Universal Preschool NOW! wrote on Twitter in celebrating the measure's success.