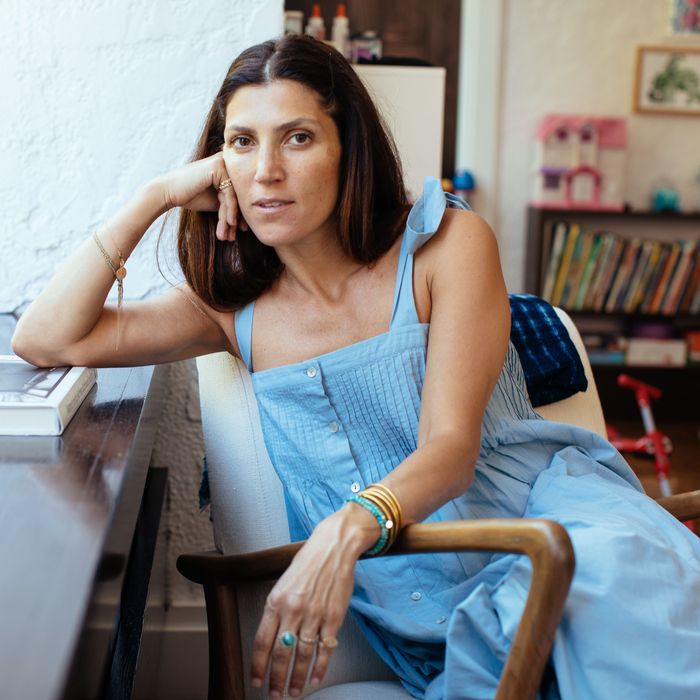 As a busy mom of two, Ariane Goldman doesn't have much time for herself, let alone time to put a cute outfit together. She wanted to make life easier for other stylish moms, too, by making effortlessly chic clothes that take zero thought or planning. In 2011, she launched her brand Hatch, and now Goldman makes clothes for women before, during, and after pregnancy.
"When I was pregnant with my first daughter, I couldn't find stylish, timeless wardrobe essentials that made me want to celebrate my body, not hide behind it," she told the Cut. "Everything I found in the market was really dowdy and matronly and didn't reflect me or my point of view. I wanted maternity pieces that could make me feel incredible (not to mention relevant and cool) and last beyond my pregnancy. So I made my own."
We spoke Goldman about her "community of mamas," martinis, and mom jeans.
What's one part of your work that's especially meaningful to you?
Our After Baby Collection truly represents how far we've come — the problems we continue to uncover and solve for our mama. The After Baby collection came from two years of working with our community of mamas to find the right offerings to make her feel like herself in those first days post-babe and beyond. It opened a new chapter for us — new doors to new conversations and moments to take care of her with high-quality and sexy but functional designs. And it keeps selling out. We truly have tapped into something. It entirely wraps up why I'm here still doing this after ten years.
How do you thank someone for a gift?
In today's world, an Instagram shoutout is the modern version of a thank-you note, like it or not. However, I do enjoy expressing some formal, old-school gratitude with a handwritten note. I love using my own stationery or Lingua Franca's note cards with '90s hip-hop lyrics and other rad sayings.
What would you never wear? 
White stockings.
What's your dream vacation?
Anywhere that has both beach and culture. Anywhere with texture, food and language but with plenty of sunshine.
What's a good book on your coffee table right now?
Bill Cunnigham: On the Street. I love coffee table books, especially because I have zero time to read, and I'm a visualist.
Last show you binge-watched?
I May Destroy You.
What's your guilty pleasure?
Right now, there aren't a lot of guilty pleasures. The martini doesn't work anymore. There's really nothing to be guilty of during lockdown, though I do often look up flights to places even though borders aren't open.
Secret to hosting a good party?
A lot of candles, a good tablescape, friends who come help cook, and "special" chocolates passed around before dessert!
What is a trend that you like right now?
Mom jeans.
One you don't understand?
The moonwalker sneaker. Every designer is doing it. I just don't understand it.
Favorite restaurant in New York?
Low: Lovely Day. High: En Brasserie.
What's the one thing you could eat everyday for the rest of your life?
Sushi.
Shoes you wear most often?
A pair of black Chanel ankle boots.
What are five inanimate objects that bring you joy?
"They're light, breezy, and easy. Every time I'm wearing them, I'll catch myself in the mirror and think, Oh right, they're also chic."
"It's just as soft as that tee you stole from your ex, and it has the most amazing cut."
"These are the perfect '90s-inspired wide-leg jean."
"The most amazing sweater and the only one you need come fall."
"I love a strong statement ring, and Monique's have that earthy, natural element that still feels totally luxe."