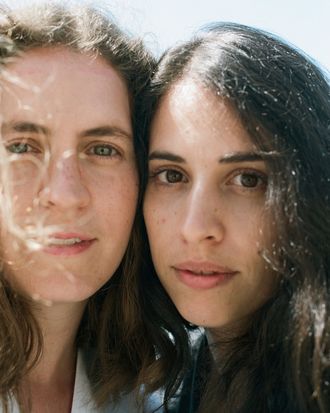 Photo: Courtesy of Mansur Gavriel
When Mansur Gavriel launched its "anti–It bag," the simple tote inevitably became an It bag, leading Rachel Mansur and Floriana Gavriel to win the CFDA Award for Accessory Designer of the Year in 2016, launch ready-to-wear in 2017, and achieve household name status. But like the understated bags they design, the duo remains largely behind-the-scenes and out of the limelight.
Today, the brand released a new campaign that continues their celebration of diversity. It features a group of non-conformers known for breaking down barriers and creating change, like social media star Parker Kit Hill and trans model, actress, and LGBTQ+ rights activist Jari Jones. The images highlight the designers' favorite Mansur Gavriel bags in fun colors to inspire joy and hope for the future in an otherwise tumultuous year.
We spoke with Rachel Mansur and Floriana Gavriel about bucket bags, inclusivity, and logomania.
What's one bag you've designed that's especially meaningful to you?
Both: We love the zip bucket for its simplicity. It's such a classic, clean shape and takes color very well.
How do you thank someone for a gift?
Both: From the heart. We appreciate a thoughtful gift because we, too, love to give each other gifts when we find something special. It's a beautiful tradition we have been holding onto for years.
What would you never wear?
RM: High heels.
FG: Neon.
What's your dream vacation?
RM: To spend a summer traveling all over Japan, experiencing the beauty of art and food, their traditions, and gardens.
What's a good book on your coffee table right now?
FG: Milton Avery: The Late Portraits.
Last show you binge-watched?
RM: The Bureau.
Secret to hosting a good party?
Both: Beautiful homemade food, flowers, and music; an easy and warm atmosphere; and good wine.
What is a trend that you like right now?
Both: Inclusivity.
One you don't understand?
RM: Logomania.
Favorite restaurant in New York?
FG: Atla.
What's the one thing you could eat everyday for the rest of your life?RM: Pomelo grapefruit.
Shoes you wear most often?
RM: Mansur Gavriel classic loafer.
What are five inanimate objects that bring you joy?
"Really loving these Homme Plissé Issey Miyake pleated pants. They are clean, crisp, easy to wear, and they come in beautiful colors." —FG
"Our favorite jewelry brand right now is Vermeer Studio. Their Eden Hoops are beautiful everyday earrings — very classic and lightweight."
"Gjusta is a beautiful restaurant, market, and home goods empire in Venice, California. I love everything they do. Stock up on their pantry goods." —RM
"Organic, undyed sheets by Coyuchi. Love that they are 100 percent organic and free of chemical dyes." —FG
"Our homes are full of secondhand furniture and items. We love vintage Murano glass and comb the online auctions looking for beautiful pieces." — RM