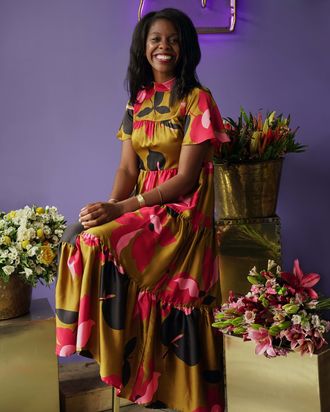 For Kaylyn Hewitt, the path to becoming a full-time florist bloomed just as organically as one of her bouquets. She was pursuing a master's degree in child development when she decided to pivot and start her own floral-design company, True Vine. Now, she's the Bouqs Company's lead floral designer and working to promote equity in a predominantly white industry. 
This month, Hewitt launched a collaboration called United With Flowers with Maurice Harris, the founder of Los Angeles–based floral studio Bloom & Plume. Harris is best known for his work on Beyoncé's Black Is King. "The Bouqs Company has always stood for empathy and kindness," said Hewitt, explaining that she was inspired by her own experiences as a Black woman in the floral space. "Now more than ever, we are challenging ourselves to use our business to turn our kindness into action." All net profits from the collection are donated to Campaign Zero to combat police brutality.
We spoke with Hewitt about low-rise denim, voting, and her go-to Zoom shirt.
What's one bouquet in the collaboration that's especially meaningful to you?
I'm not sure I could choose just one! This whole experience has been very meaningful to me and I'm so proud of what these designs represent.
How do you thank someone for a gift?  
This year I've gotten into handwritten notes. I try to send a handwritten thank-you note when I can. I know when I receive them, they feel like a little return gift back.
What would you never wear?
I've always said that I will try anything. Truly, I love fashion, and it's always been an avenue to explore my creativity. I guess if I had to choose one thing though, it would be low-rise denim. I can't go back to that.
What's your dream vacation?
Late mornings, amazing food, lots of exploring, lots of time spent outside, and lots of time spent inside at museums.
What's a good book on your coffee table right now? 
I got a vintage wildflower book for my birthday this past October. I'm slowly making my way through it.
Last show you binge-watched?
The Queen's Gambit and Killing Eve are two of my absolute favorites right now.
What's your guilty pleasure? 
Cracker Barrel. But I barely feel guilty about that.
Secret to hosting a good party?
I love hosting dinner parties, but I would always feel this insane amount of pressure and stress to have everything ready right as people arrived. I read something in a book a few years ago that has changed how I approach dinner parties. It gave permission to still be cooking as your guests arrive. It takes the pressure off and allows for your guest to be involved in the process. I have loved putting this into practice, and I have had some pretty special conversations over those last few stirs of a risotto.
What is a trend that you like right now?  
I love how many people voted this year.
One you don't understand? 
I think tiny bags are a thing, right? I don't get it.
Favorite restaurant in New York? 
I went to Blue Hill for my birthday a couple of years ago, and it was a dream come true. From the moment I walked in, I kept having to remind myself to be cool. That bread you saw on Chef's Table? It's as good as you imagined it to be.
What's the one thing you could eat every day for the rest of your life? 
Blackberries. I love them, but the feeling isn't mutual. Pretty sure I may be slightly allergic.
Shoes you wear most often? 
White Converse. I just retired a 15-year-old pair.
What are five inanimate objects that bring you joy?
"I've spent a lot of time in this robe this year."
"A friend let me borrow it and it has become my absolute favorite nail polish color. It's the perfect navy!"
"The most beautiful candle scents I've come across."
"This is a new skin-care line that I tried this year. It's beautiful and high-performing."