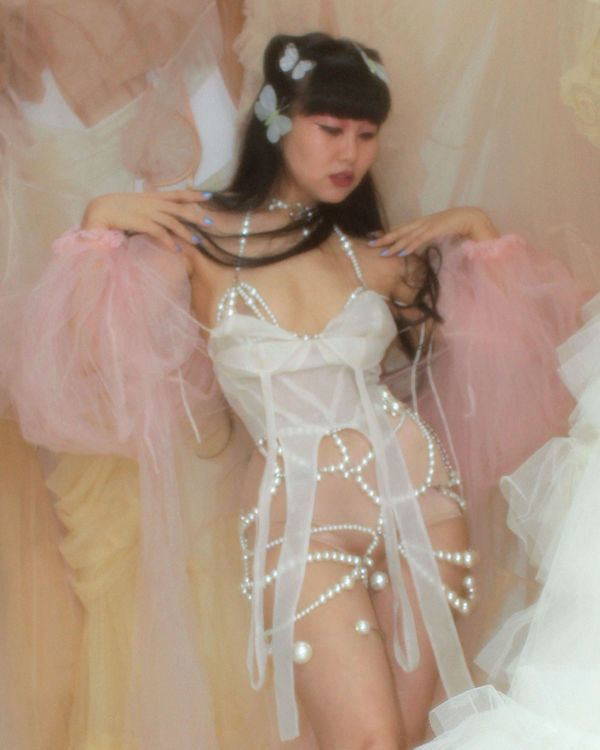 Photo: Alejandro Lafontant
If you've consumed any sort of media from Megan Thee Stallion, Cardi B, Solange, or Doja Cat, then you've probably seen designs by Yeha Leung. The Brooklyn-based designer's eponymous lingerie-and-accessories brand, Creepy Yeha, fuses fetish-wear with feminine power.
Leung says her mantra is "life is performative," so it makes sense that she'd end up in a career dressing performers (Rihanna and FKA Twigs are also on the list). "I have always enjoyed the visual side of things," she told the Cut. "I spend a lot of time planning the aesthetics behind visuals, creating stories or moments for images and performances." Celebrities aside, many of the people represented in her work are close friends who she enjoys photographing herself to keep things personal. They all come in all different shapes and sizes, and from all walks of her personal life.
We spoke with Leung about matching sets, platform boots, and the women who inspire her.
What's something you've designed that's especially meaningful to you?
My vinyl and crystal sets. These works are inspired by my close friend Enga Purevjav's photography. She took a portrait of a dear friend, Kate Vitamin, with a beautiful chandelier as the background. The image lingered in my mind for a while — I wanted to recreate that elegant mood. It really opened my eyes to the possibilities of working with uncommon materials. I've made these sets in different forms, and they've have reached people from all walks of life. They have been worn by Leomie Anderson, FKA Twigs, Sevdaliza, Viktoria Modesta, Solange, Normani, Cardi B, Kali Uchis, John Yuyi, Nicki Minaj, Sateen, and many more. These are all people I admire and who inspire me.
How do you thank someone for a gift?
With eye contact, gratitude, warmth, and love.
What would you never wear?
I have demonized things in the past that I love now, so I try not to limit myself.
What's your dream vacation?
I'm very easy to please. A dream vacation is one that offers good food and warm hospitality. My go-tos at the moment are Hong Kong and Puerto Rico.
What's a good book on your coffee table right now?
Araki, gifted by my good friend Jessia.
Last show you binge-watched?
I'm currently rewatching The Walking Dead. I go through cycles each year of rewatching shows I love such as The Office, Dexter, Tales from the Crypt, Outer Limits, and many more.
What's your guilty pleasure?
I have an insane sweet tooth. Sweet treats will be the death of me.
Secret to hosting a good party?
Making sure everyone is fed and comfortable.
What is a trend that you like right now?
Matching sets. I like a cute dress that comes with matching gloves. I appreciate that level of detail.
One you don't understand?
Excessively distressed jeans.
Favorite restaurant in New York?
I simply will not choose just one. My answer: Topaz, Il Corallo Trattoria, Pig and Khao, Cocoron, Somtum Der, H.K. Tea & Sushi, Yaya Tea Garden, and Ruby's.
What's the one thing you could eat everyday for the rest of your life?Capellini limone.
Shoes you wear most often?
Platform boots! My current favorites right now are by Unif.
What are four inanimate objects that bring you joy?
"This is top of my list because the scent is very nostalgic to me. I love how intimate and sweet it can be to wear something that can be shared through scent."
"Having a bold winged liner is priority when I decorate my outer shell. Since middle school, I've been using Wet'n'Wild liner, but recently through friends, I fell in love with Brian Beauty's formula. I tend to look for liquid liners that are long lasting and do not smudge — super important since I have tiny eyelid folds that transfer liner easily. I found that this brand's liner is super waterproof and lasts through a full day of sweat and natural oils."
"A lot of people ask me about my red eye liner. I often use liquid lipsticks for colored eyeliner. This brand is also my go-to for lipstick – I just find their formula to be my favorite on the lips. My other favorites shades from them are Mars, 24Seven, and Bachelorette."
"I added this to the list because a lot of people ask me how they can achieve the hourglass looks I present on my Instagram. I don't wear corsets as often as people think, but I love wearing them to complete an exaggerated look. Orchard Corsets are a favorite of mine because they're affordable and the quality really holds up. I especially love the mesh ones in black and red."