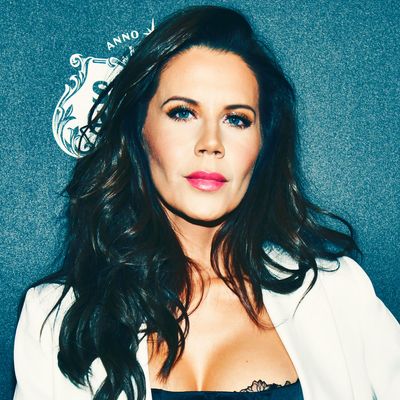 Photo: Rodin Eckenroth/FilmMagic/GettyImages
Remember Tati Westbrook? The beauty vlogger with an irresistible urge to stir up drama with other beauty vloggers then vlog about it? Well she's being sued. For fraud.
BuzzFeed News reported on Monday that Tati and her husband James Westbrook are being sued by their business partner, Clark Swanson, over alleged breach of contract, gross negligence, and fraudulent inducement in their handling of Westbrook's vitamin company, Halo Beauty. Swanson claims he initially owned 50 percent of the company, but just before the company launched, Tati and her husband asked that Swanson give them two-thirds of the business.
Allegedly, Tati agreed that, in exchange for her and James gaining majority control of the company, Halo Beauty would become her "umbrella brand," which she would take beyond the gummy vitamins they are known for into the realms of skincare, cosmetics, and anything else that might befit a beauty empire. Furthermore, E! News reports Tati told Swanson her famous name would lure customers, whatever the product ended up being. "Ms. Westbrook claimed that the product did not matter," the lawsuit states, "she could still sell 'shit product' to her loyal followers."
However, the lawsuit claims Westbrook did not fulfill her side of the bargain: Tati went on to market an eyeshadow palette and beauty blenders, but it was done outside of Halo Beauty, under the name Tati Beauty, leaving Swanson out of the bounty. Swanson also claims the Westbrooks laid plans to market additional products with Tati Beauty, including perfume. For this alleged betrayal he is seeking unspecified damages from Tati, James, Tati Cosmetics, and Halo Beauty.
In a statement to E! News, Tati's lawyer, Douglas Fuchs called Swanson's lawsuit "meritless" and "absurd," claiming that "Swanson has received millions in profit distributions from Halo Beauty, almost exclusively due to Westbrook's efforts."