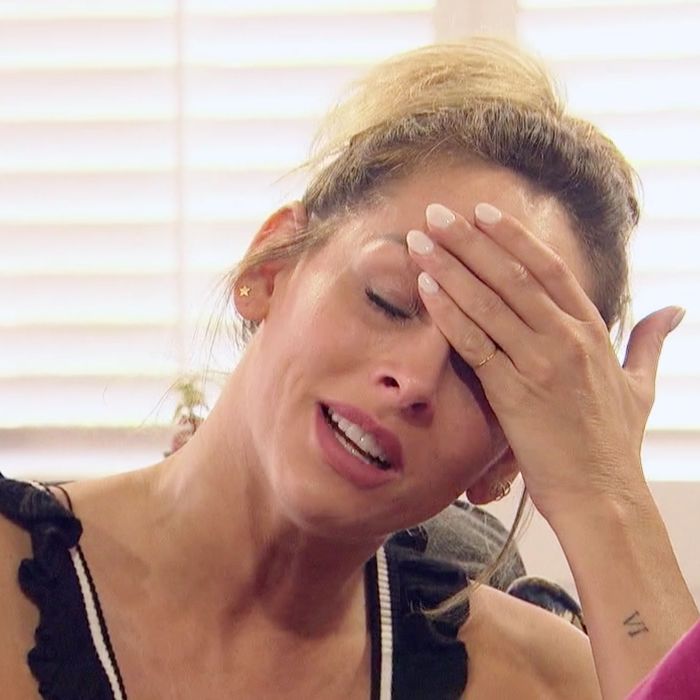 Last night, as the world waited with bated breath to find out who would be the next president of the United States, another, more peaceful transfer of power took place. Clare Crawley cut her season of the Bachelorette short to be with hunk Dale Moss, and former Bachelor season 23 contestant Tayshia Adams officially became the new Bachelorette.
Much like the election, some questioned the legitimacy of the process, and many were left wondering if their voices had truly been heard. (Will incessantly comparing the Bachelorette to the presidential election get tiresome fast? We'll see. This is a recap journey we're on together, you and I, and I don't know about you, but my brain has been so poisoned from watching 20 hours of cable news a day that at one point, I expected MSNBC's map wiz Steve Kornacki to come out and walk Chris Harrison through where all the guys stood when it came to accepting a new Bachelorette.)
Anyway, as I said, Clare's out. Last night's episode started with Chris Harrison visiting her suite at the La Quinta Resort & Club to ask her what the hell was going on, and why she didn't give any of the guys a rose on the last group date. Chris wanted Clare to level with him about what she was feeling, and he used cuss words several times to prove how serious he was. Clare said she was falling in love with Dale, and admitted that she felt a connection with him before they ever met. They didn't talk before filming, she clarified, but she did look at all the guys' social media, and even online, she felt a connection. Deciding you're in love with someone before even meeting them and proceeding to ignore all of the other, perfectly good romantic prospects around you? This is classic, emotional water-sign culture that Clare, as a Pisces, is displaying, and that I, as a Scorpio, must grudgingly respect.
First though, Clare needed to tell Dale how she's feeling. She canceled the group date that night, much to the chagrin of the rest of the guys who aren't Dale. I didn't know any of their names, and I assume neither did Clare. She and Dale had a candlelit dinner, and she wore a dress like that dancing lady emoji, and they confessed their love for each other before going back to Clare's suite to bone in the warm glow of their shared love. The next day, Clare confirmed she's all in with Dale, and Chris Harrison FaceTimed jeweler Neil Lane to get him to rush same-day delivery on a gaudy engagement ring.
When Clare tells all the other guys the news, some of them are annoyed, but a lot of them pretend to be happy for her. After she leaves, Blake, the Canadian who looks exactly like Wreck-It Ralph, says he's worried Dale will get spooked by things moving so quickly. Clare is worried about the same thing and spends all day crying about it. Dale isn't spooked, though, and in the candlelit courtyard of the La Quinta Resort & Club, he gets down on one knee and proposes. That's amore.
At the end of the episode, Tayshia Adams comes out of a limo in a sparkly dress, ready for her first cocktail party as the Bachelorette. All the guys have decided to stay on to try to win her hand, but we're asked whether they will accept her. I think they will because she's beautiful and cool, and also, because they already took the time off work and did two weeks of quarantine to be on this show, so to leave now would be a little silly.
We'll see how things will go under this new administration next week. In the meantime, here are some questions I have about last night's episode:
• Why was it engagement or nothing? Like, couldn't Dale have been like, "Hey, I really like you, let's date for a while and then see how we feel in a few months?" I understand the answer to this question is, "Uh, because it's TV, dummy," but I feel like there could have at least been a nod toward normalcy?
• Where does Kenny, the boy-band manager, get his deep V-neck T-shirts?
• And at what point does a V-neck simply become a vest?
• Will the phrase "Chris Harrison FaceTiming Neil Lane from the La Quinta Resort & Club" ever leave my brain, or will those be the last words I utter?
• Why does the episode end with "To be continued…"? This is a show that airs weekly even when there's a presidential election underway. Of course it's going to be continued!