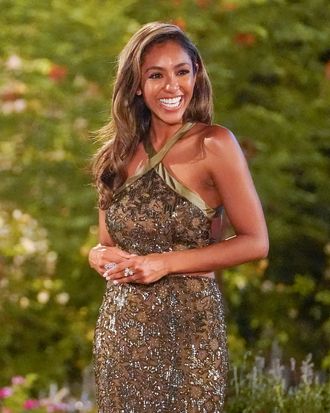 Tayshia!!!!!
Photo: Craig Sjodin/ABC
We all want to leave a little emotional devastation in our wake, don't we? If you move cities or change jobs or leave a party before everyone else, it's nice to have someone to reach out and say, "Ugh, it's lame without you here." In response, you might be like, "Oh, no! That sucks. I'm sorry!" But in the privacy and comfort of your own mind, you're a little bit thrilled. This is proof of your impact! Your power to shape moments and spaces around you for the better! Conversely, if you leave somewhere and then people are like, "Oh my gosh, things are great, and we're having so much fun," you're happy for them, of course, but you're also kind of offended. These are the feelings I imagine Clare Crawley must be wrestling with after watching everyone fawn over her replacement Bachelorette, Tayshia Adams.
Yes, Tayshia's our bachelorette now. After Clare dumped sixteen guys at once and got engaged to former Party City model Dale Moss in the courtyard of the La Quinta Resort & Club, ABC brought in former Bachelor season 23 contestant, Tayshia Adams. Tayshia is from Orange County, California, and describes herself as working in the "beauty and lifestyle space." I know it's a little trite to say someone lights up a room, but watching Tayshia walk in to meet the guys for her first cocktail party is what I imagine it must be like to watch a star explode into being in the middle of dark, empty space. She's charming, warm, and has a smile that takes up conservatively 80 percent of the screen. The guys can barely contain their delight, and one straight up says, "I like her way better than Clare." Harsh, but also, they were essentially iced out by Clare for two weeks, so I get it.
But right off the bat, there's a twist. It won't just be the sixteen guys Clare dumped vying for Tayshia's heart; Chris Harrison introduces four new contestants, too, including Noah, who has a mustache, and Spencer, who is mostly hair gel. This makes the original sixteen mad, but Tayshia loves the hair gel, I guess, and Spencer gets the first impression rose.
God, I love Tayshia!!! I love that she manages to come across as taking the process seriously, but not so seriously that she's not having fun with it, and she's so engaged with the guys, and I don't always love a halter top dress but it really works on her and — Oh, hold on, Clare's back.
Halfway through the episode, Chris Harrison checks back in with Clare and Dale, who at this point I have fully erased from my mind to make more space for Tayshia. Again, we hear from Clare about how in love they are, and how they absolutely, one hundred percent did not communicate in any way before filming. Dale says a couple of words, too. Good for them, best of luck, but please let's get back to Tayshia now.
For the first group date, a bunch of guys play "splash ball" (basketball in a pool), and then there's a cocktail party where everyone falls further in love with Tayshia. Eazy says he feels like he just met his wife, and while he and Tayshia are talking, Kenny the boy band manager tells Hair Gel Spencer that he's coming off like a dick, and Riley calls Spencer "lunch meat." Spencer manages to pick up on these subtle signals, and astutely notes: "I can tell there's a little animosity."
Not everyone is thrilled about the new direction of the season, though. Jason, who went on a one-on-one date with Clare in which they sat by a fire and screamed, says that he fell in love with Clare, and misses her, and that he doesn't think it's fair to Tayshia or the other guys for him to stay, so he leaves. Tayshia said this was her fear, that guys would see her as a second choice, but before he goes home, Jason assures her none of the guys feel that way. Neither do I! Tayshia, I love you!
The last part of the episode is a one-on-one date between Tayshia and Brendan, who wore a turtleneck and blazer at their first cocktail party, which I loved. The two ride horses around the La Quinta Resort & Club, and make out in the pool for a while, and then enjoy a romantic dinner where they both admit to having been married before. They bond over their divorces, and watch fireworks, and make out some more. Elsewhere at La Quinta, the other guys see the fireworks and feel jealous.
Next week, it looks like Tayshia oils up the guys to fight each other, and the show positions Mustache Noah as the villain. In the meantime, here are some questions I had about this week's episode:
• Why don't more guys wear turtlenecks and blazers at the cocktail parties, like Brendan? It's a good look! It makes you look like the most handsome man at a seventies key party.
• Before Jason leaves, he tells the other guys how much he loves them. I don't really have a question about this except: Wasn't that nice?
• Chris Harrison does this bit where he keeps popping up on Brendan and Tayshia's date and offering them refreshments like ice cream, and cold coconuts. I just feel like… why?
• What did the horses think of the La Quinta Resort & Club? Did they like it or did they find the carefully groomed walkways claustrophobic?
• Tayshia!!!!!