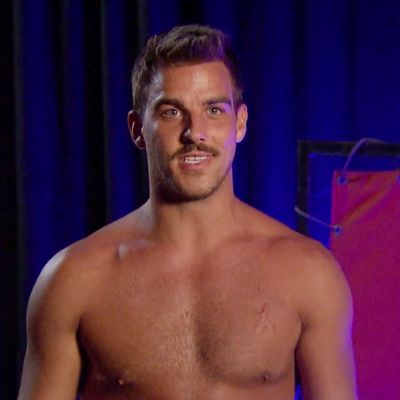 One thing about filming this season of The Bachelorette in a quarantine bubble at the La Quinta Resort & Club in Palm Springs is that the producers and editors don't have access to the usual tools and tricks they would use to generate drama and excitement. They can't travel to scenic locales like the Australian outback, or Cleveland. They can't organize group dates at waterfalls, or with shamans. Under these restrictive conditions, they are forced to squeeze every second of TV-ready drama they can out of even the most mundane disagreements, like about whether a guy is wearing a size medium shirt or a size large shirt, or who is, in fact, a grown-ass man. And guess what? I love it!!
After peacefully assuming office following the sudden departure of Clare Crawley for a Party City model, the Tayshia Adams Bachelorette administration got down to work this week. The episode started with a group date aimed at determining which of Tayshia's suitors is a "grown-ass man." To prove their grown-assness, the guys had to answer a series of basic math and spelling questions, win at tug-of-war, and prepare Tayshia breakfast in bed. Bennett, who looks like a sentient pair of salmon-colored Vineyard Vines shorts, says he feels very confident about winning the challenge, because he went to Harvard. He ends up goofing most of the math and spelling questions, and doesn't even participate in the tug-of-war, but he still ends up winning the challenge because if there's one thing our country stands for it's allowing Ivy League–educated white guys to fail upward.
The loser of the date was a guy named Ed, whose punishment for being deemed a "man-child" was to carry around a baby doll, whom he named Carlos, for the rest of the episode. Baby in hand, Ed proceeds to take up his position as Bennett's sidekick, and the two work together to rile up Chasen by saying that they can tell he isn't into Tayshia because he uses the same adjectives to describe her as he does Clare. Chasen says that if they want to be Batman and Robin, he'll be Superman. Well, actually, he'll be Wolverine, because that's his nickname, he says. He doesn't say why that's his nickname, but he refers to himself as Wolverine several more times over the course of the episode, and the audience is, I guess, just expected to be like, "Okay, yeah. Wolverine. Sure."
My favorite argument, personally, is when Chasen comes to yell at Ed, who is still holding the baby doll, and Ed tells him, "Take your medium shirt and sit down," to which Chasen replies, indignantly, "My medium shirt? It's actually a large." Watching these two beefy boys argue about their shirt sizes prompted a flood of serotonin to rush through my brain, and I felt more joy and peace than I have in weeks. Here's the clip if you, too, would like to experience this delightful high.
At the cocktail party the next evening, wearing a more formal shirt that is also, presumably, a large, Chasen proudly announces to the group that, after much consideration, he's come up with a new word to use when describing Tayshia. It's "smokeshow."
Not all of the guys are impressed by Chasen's linguistic expansion. "He had all day to think of an adjective, and he didn't think of an adjective, he thought of a noun," remarks Bennett, who went to Harvard.
At the end of the cocktail party, three men I've never seen before in my life get sent home. Best of luck to them.
I know I haven't talked about Tayshia much, and that's because so much of the episode was focused on petty squabbles between the guys, each of whom, to reiterate, insisted they were a "grown-ass man," and that whoever they were arguing with was not. Her best moment, I think, was near the end of the episode: After a new guy named Noah muscles his way into a wrestling group date to which he had not been invited, she gently suggests he shave off his mustache. "For fun!" she says. He reluctantly brings her a razor from his room, and she shears his upper lip like it's a sheep. For his sacrifice, Noah gets the group date rose, which makes all the other guys mad.
Next week, it looks like there will be pillow fights, and make outs, and a bald-lipped Noah will be positioned as the season's new villain. In the meantime, here are some questions I had about this week's episode.
• In the Grown-Ass Man group date, Bennett steps away and then reappears wearing only a plush, white robe. I assume this is something he just carries around with him at all times, should the need to lounge suddenly strike him?
• Will I ever feel greater joy than watching a guy whose whole personality is "Harvard" fail at basic math questions? I doubt it.
• What was the best line last night, and why was it Chasen telling Ed: "You're holding a baby, you have chicken legs, you're losing the competition."
• If Chasen is clearly kind of a meathead bully, how is it that I'm still kind of on his side over Ed's? Ed spends all his time with Tayshia complaining about Chasen instead of connecting with her, a strategy that has never once worked for a contestant, and when Chasen tries to apologize, he chooses to keep whining instead. Really, Ed's only triumph is when Bennett notes that he got a perfect math score on his SAT.
• Bennett, unimpressed by Chasen's new word choice for Tayshia, asks who would want to be called a "smokeshow." My question is: Who wouldn't?